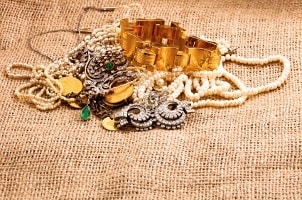 When you think of treasure, you might picture mounds of gold in an ancient castle vault. Modern-day treasure does exist, however, and you probably have a few precious pieces of gold or silver in your jewelry collection. A jewelry box is like your contemporary treasure chest; you wouldn't leave piles of gold strewn around the house. A jewelry armoire is one of the best ways to keep your precious baubles safe and organized. These large jewelry boxes have compartments for everything, including rings, bracelets, necklaces, earrings, cuff links, body jewelry, watches and non-jewelry valuables. Some jewelry armoires even have locks, secret drawers and the ability to be mounted on your wall. Our quick review of jewelry chest armoires and jewelry cabinets will help you choose the best one for your jewelry fortune.
Comparing Jewelry Armoires:

Fashion and style: A jewelry armoire is meant to be a part of your home's decor. You can place a large jewelry chest armoire next to your dresser in your bedroom or mount your jewelry cabinet on the wall in your closet. Choose a jewelry armoire that will complement the furnishings and color scheme of your bedroom, closet or dressing room. Choose from armoires made of wood, leather and metal. Jewelry armoires with delicate hand-painted details and precious embellishments are incredibly opulent and luxurious.

Storage and organization: Take inventory of your jewelry collection before you start shopping for an armoire. Jewelry armoires are meant to keep your jewelry perfectly organized, so if you have a large collection of rings, you'll want to choose an armoire with a large ring-storage drawer. Be sure you purchase a jewelry cabinet that has room for more pieces of jewelry than you have, unless you need an excuse to limit your jewelry shopping.

Features and function: Many jewelry armoires feature a mirror on the top, front or inside so you can easily check your accessorizing or quickly put on your earrings. Many armoires have locks, hidden compartments and additional storage for cash, mementos and photos. Choose a jewelry armoire or jewelry cabinet that will suit your needs for decades.

Buy Jewelry Box
Back to Guides Directory