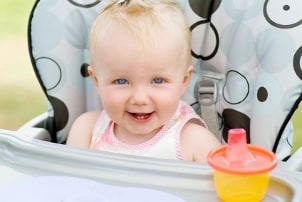 High chairs come in many varieties, including traditional wooden high chairs, adjustable plastic high chairs and baby chairs that attach directly to your kitchen table. In addition to the many types of baby high chairs, booster seats are also available. Booster seats are placed on an adult-sized chair and are perfect for toddlers and older children. When comparing baby high chairs and booster chairs, it's important to put safety first. Choosing the features that will make your life easier and selecting a baby chair design that suits your dining room or kitchen is also important. Let us help you compare baby feeding furniture for your lifestyle.
Comparing High Chairs:

Choose a style. When you are shopping for baby furniture, it is important to choose a style that will fit into your routine and your home. Baby feeding items such as high chairs and booster chairs will become a major part of taking care of your baby. You can choose from classic wooden high chairs that have a high level of aesthetic appeal, plastic chairs that are incredibly functional and portable chairs that are perfect for traveling and for placing in small spaces. Baby chairs also come in a range of colors and designs, so choose on that will match your other baby furniture or kitchen decor.

Examine the seats. It is important to choose a high chair with a safe seat. Select a chair that has a comprehensive safety harness and a passive restraint, which is a plastic or wooden post, knob or protrusion that will prevent your baby from sliding under the tray and falling out of the chair.

Check the chair's legs. A good high chair should have a wide base, which will prevent tipping. Some high chairs have wheels. Be sure that high-chair wheels have locks to keep the chair stationary. Legs that are collapsible should also have quality locks to keep the chair secure, sturdy and safe.

Consider features. Many high chairs are made with convenience in mind. If this is your main concern, look for handy features. High chairs with reclining seats allow you to feed your infant in a comfortable position. High chairs with kick guards can prevent a baby from kicking the tray. Many high chairs come with tray inserts that can fit inside a dishwasher. Some baby chairs have adjustable seats, while others convert into booster chairs for toddlers.

Choose a chair that is easy to clean. Picture those countless photos of babies with spaghetti on their faces, heads and bodies when you are shopping for a high chair. Look for a high chair with a removable tray and a machine-washable cover. Check for cracks and crevices in the chair. Choose a baby chair that will make your life easier and help you feed your baby simply.

Buy High Chairs
Back to Guides Directory