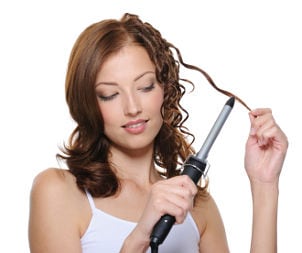 Curly hair has long been considered beautiful, feminine and alluring. But not everyone is lucky enough to have perfect natural curls. A quality curling iron is the ideal hair care appliance for creating gorgeous curls. Using a curling iron, you can create a variety of stunning curly hair styles, from casual to formal. There are many different types of curling irons available, so let these tips help you choose the one that will be right for your hair care and personal style.
Comparing Curling Irons:

Compare barrel sizes. Curling irons come in a variety of barrel sizes. The barrel size will determine the type and size of curl the curling iron can create. The smaller the barrel, the tighter the curl will be. To achieve tight ringlets, for example, a very small-barreled curling iron is necessary. Larger barrels are best for achieving body or loose waves but will not produce tight curls. There are some curling irons that have a tapered barrel. These curling irons can create a variety of curl sizes.

Compare settings. The settings on a curling iron can vary quite a bit. Some curling irons will have just one heat setting, while others will have a variety of heat settings from low to high. Different heat settings cater to different types of hair. High heat, for example, is good for hair that doesn't curl as easily, while low heat is healthier for hair that is very fine or curls without much effort. Some curling irons also have an automatic shut-off mechanism that will turn the iron off after a certain amount of time. This can be helpful for busy or forgetful curling-iron users.

Compare features. Curling irons come with a variety of features. Hair that is difficult to curl and loses curl quickly can benefit from an iron that produces steam. Steam curling irons shoot hot steam out of small holes in the barrel, making hair easier to curl and setting the curl to last a long time. Many curling irons today are ceramic. Ceramic curling irons can heat up to higher temperatures and more evenly distribute heat while doing less damage to your hair than older models. Ceramic curling irons are typically more expensive than traditional metal curling irons. Cord length is also an important consideration. You might need a long cord length if your bathroom or bedroom is short on electrical outlets of if you enjoy doing other people's hair. Shorter cord lengths are good for women who have small children because short cords will be less likely to drape over the edge of the bathroom counter and pose a safety risk. Cordless curling irons, which run on batteries, are also available and are perfect for women and teens on-the-go.

Consider wave irons. Wave irons or three-barrel irons are curling irons that have three connected barrels. These curling irons create "beachy" waves and are used a little differently than traditional curling irons. Instead of winding the hair around the barrel like you would with a curling iron, you use a wave iron as a crimper, by closing the three barrels on the hair in sections. These curling irons will create nice uniform waves, but they won't create tight curls and cannot be used to style short bangs.
Tip:

Heat-protection products are great for use with curling irons. They can help prevent heat damage and also set curls so they will last longer. Heat-protection products come in sprays, creams and serums.

Buy Curling Irons
Back to Guides Directory