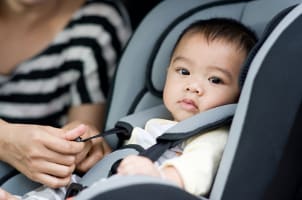 New parents know that car seats are essential to keeping your baby safe on the road, even during that first trip home from the hospital. The hard part is choosing the right one to buy. With so many styles and designs of car seats available, it can be a daunting task to decide which seat is best for your baby. Read the following tips to learn how to compare car seats so you can make the best decision for you and your family.
Things to Consider:

Your baby's age: The most important factors to consider are your baby's age and size. All car seats are made with weight limits and age suggestions. When you're comparing seats, look for seats designed for the age and size of your little one. If you have a young baby, infant car seats are best. For children up to 2 years old, you'll want to look for rear-facing models for your child. Children older than 2 years can sit in front-facing models, and older toddlers and children should be seated in toddler and booster seats for ultimate safety.

Your expectations: The baby seat you choose should fit your lifestyle and needs. If you are simply looking for a seat to use in the car, a basic car seat will do. Many parents, however, find that they want more options. A convertible car seat is a great choice for parents who want to save money, because a it converts from a rear-facing to a front-facing design or even a toddler seat. Other parents like the idea of travel systems that allow you to move the car seat from an in-car seat base to a stroller base, making it more versatile.

Additional features: When you're comparing baby seats, look at the additional features available. Some parents prefer five-point harness systems to keep their little ones safe, and LATCH- compatible car seats add another layer of safety. There are many additional features beyond just safety features that you can look at while you're comparing seats. You may want to consider a model with fabric covers, cute designs and even padded straps to keep your baby more comfortable.

Reviews: When you're comparing car seat models, don't forget to read online reviews. Parents who have bought car seats will post reviews and ratings on certain car seat models and rate the car seats on everything from safety to convenience. Read what other parents have said about specific models to get an idea of which car seats have what you are looking for.

Buy Car Seats
Back to Guides Directory