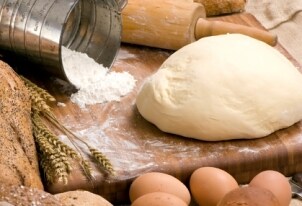 A bread machine is one of the best specialty appliances to have in your kitchen. You can serve your family breads and rolls hot from the oven without spending hours in the kitchen. You can be certain about the ingredients in your bread, which is crucial if anyone in your family has food allergies or other dietary restrictions. You can create delicious recipes using the freshest ingredients and fill your home with the aroma of freshly baked bread. Before you purchase a bread machine, be sure to compare the different makes and models so you can choose the best one for your family.
Comparing Bread Machines:

Loaf size. Consider the size of loaves you want to be able to make in your bread machine. If storage space is a concern, factor this in as well. When you compare bread machines, notice that they come in several sizes, including 1-, 1.5- and 2-pound loaf capacity. If you are unsure of what size to choose and you have room to spare, choose a larger size since most large-capacity bread machines can make loaves in several sizes.

Loaf shape. Look at the shapes of the bread machines. If it is imperative to you that the loaves are long and horizontal like store-bought bread, look for a bread machine that bakes such loaves. If the shape is unimportant, you may find a more affordable model that bakes vertical, oblong loaves of bread.

Timer options. Think about whether you want a bread machine with a delay timer option. If you would love to wake up to a hot loaf of bread for breakfast or would enjoy coming home to a fresh loaf after work to serve with dinner, look for a bread machine with a delay timer. This feature allows you to load the ingredients into the bread machine and set it to be ready at a specific time.

Special features. Decide what features you want in a bread machine. For example, some bread machines have extra features that allow you to make pizza dough, baguettes and even jam. However, if you simply want to bake homemade bread, stick with a basic bread machine.

Materials. Find out what the interior bread pan in the machine is made from. If your family enjoys bread with a light, thin crust, opt for a bread machine with a thin aluminum bread pan. For crusts that are thicker, heartier and darker, choose a bread machine with a cast-aluminum pan.

Buy Specialty Appliances
Back to Guides Directory