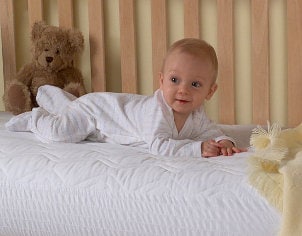 A high-quality, safe baby mattress is an important piece of baby furniture for your infant's nursery. Once you have purchased the crib and other baby furniture and accessories, you are ready to find the right baby mattress for your child. Take the time to compare different mattresses and choose the one that is the safest and healthiest for your baby.
Instructions:

Understand infant mattress safety. There are several things to keep in mind when shopping for a crib mattress. One of the most important things to remember is that an infant mattress should be firm. Mattresses that are too soft can pose smothering risks for babies. The right baby mattress should also fit snugly in the crib. Babies can get caught in the gap between a too-small mattress and the crib slats. Choose a mattress that matches your crib's measurements as closely as possible and once you have the mattress in the crib, use your fingers to test for a snug fit. You should not be able insert two fingers comfortably between the crib slats and the mattress.

Compare the materials. Crib mattresses are made from a range of materials. They can have innerspring coils or memory foam and be filled with polyurethane or cotton filler. Any of these mattresses might be right for you, but it is important to understand what materials a crib mattress is made from when you're comparison shopping and have a basic idea of what type of mattress material you prefer. Organic cotton mattresses are also available and can be a better choice for babies that have sensitive skin or allergies. Crib mattresses usually have a waterproof cover to protect the mattress and prolong its life. Many crib mattresses are covered with vinyl or polyethylene, which allows them to be resistant to moisture.

Consider quality. A crib mattress should be an investment, something that will last for years. It is important to compare mattresses based on quality to know if you are getting a good value. Check the seams on baby mattresses as well as the mattress cover. The stitches should be short and close together to keep them from unraveling easily. Many baby mattresses have double or triple covers or are sealed in an extra layer of material. These features will prolong the life of the mattress.

Buy Baby Mattresses
Back to Guides Directory