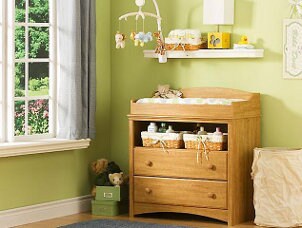 Changing tables range in design from sleek, small portable units to large tables with built-in drawers. A changing table is a handy piece of baby furniture that allows you to easily and safely change your baby's diaper, store items such as diapers and wipes, and keep your child's nursery clean and orderly. When comparing changing tables and other types of baby furniture, there are many things to consider. Safety, design, style and various features are some of the important things to keep in mind when shopping for a baby-changing table.
Comparing Changing Tables:

Look for safety harnesses. Baby changing tables come with a variety of safety features. A safety harness is a good feature to look for when shopping for baby changing tables. Safety harnesses keep your child secure when you are changing his diaper and can be especially helpful for older, more active children.

Check for raised edges. A baby changing table with raised sides can help to keep your baby from rolling off. Some tables have barriers or railing around all four sides and others will have railing around three sides or barriers that are adjustable.

Consider the base. It is important to choose a changing table with a sturdy base. Choose a table that has thick, sturdy legs and consider those made from one piece of wood, which are less likely to wobble. Changing table dressers are sturdy by nature and include handy storage solutions. If the table has wheels, make sure that the wheels have brakes.

Compare sizes. Changing tables come in many sizes, from long and narrow tables to triangular tables that are made to fit in a corner. You might find it helpful to measure your nursery and plan a spot for the changing table before shopping. You should also consider table height and how it will affect the accessibility of the changing table.

Check features. Some changing tables have added shelves or drawers for storage. Changing table dressers are handy and can optimize space in small nurseries. Changing-table pads also have different features, including special padded fabric and hypoallergenic covers. Consider the features when shopping for a changing table to choose one that will suit you perfectly.

Buy Baby Changing Tables
Back to Guides Directory