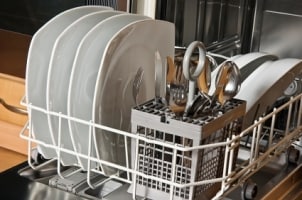 Things You Need:
Vinegar and baking soda
Scrubbing brush or rough rag
Dishwashing soap
Anti-bacterial wipes
Proper cleaning of your dishwasher will keep it looking and performing like new for years to come. You may regularly clean out your refrigerator and wipe down your other kitchen appliances, but dishwasher maintenance and cleaning care is often overlooked for the simple reason that many believe a dishwasher will simply clean itself. However, without proper cleaning, your dishwasher can be a breeding spot for germs and grime that will leave your dishes anything but clean and sanitary, and not cleaning your dishwasher can lead to other dishwasher problems as well. In order to avoid a germy build-up of mold and grime on your dishware, use the following techniques when cleaning your dishwasher.
Cleaning Your Dishwasher:

Run your dishwasher. Running your dishwasher without a load of dishes inside it will properly wet the interior. Use dish soap. This will help clear any heavy residue out of your dishwasher.

Sprinkle baking soda on the inside of your dishwasher. Sprinkle baking soda along the sides and bottom of your dishwasher while the inside surfaces are still relatively damp. You may leave the dishwashing trays inside the washer during the process or remove them to clean separately if that is easier for you.

Use a brush or rag to scrub out your dishwasher. Using an easy-to-grip scrubbing brush or roughly textured cleaning rag, scrape off any build-up or residue along the edges and bottom of the dishwasher. Be sure to scrub around any protruding dishwasher parts and at their bases.

Wipe out the dishwasher and dishwasher drain with soapy water. Using water and a strong soap or cleaning detergent, wipe out the excess dirt and clean the drain area. If there is a compartment that is removable, take it out and clean it separately. Make sure to check for any small pieces of food that may be lodged within the compartment.

Run your dishwasher with dishwashing detergent combined with vinegar. Run an empty load using dishwashing detergent and vinegar. Use the hottest water possible. This will help loosen any grime that was resistant to the initial scrubbing and will help loosen grime that has built up in nooks and crannies of dishwasher parts.

Wipe away the remaining grime with antibacterial wipes. While the heat of the previous wash cycle probably killed most of the bacteria in your dishwasher, using a few antibacterial wipes or spray to give the inside of your dishwasher a final wipe-down will ensure that your dishwasher is germ-free.

Wipe down the exterior of your dishwasher with window cleaning solution. If you have a stainless steel dishwasher, using window washing fluid may not be necessary, since streaks won't show as easily. If you have a black dishwasher, use window cleaner to avoid streaks. Make sure that you wash off the top of your dishwasher.

Buy Dishwashers
Back to Guides Directory