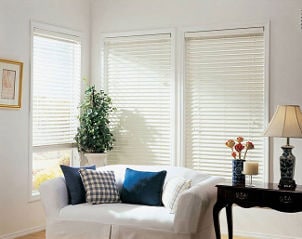 Whether you're redecorating your bedroom, living room or kitchen, window blinds are a great enhancement -- but if you don't keep them clean, they become an eyesore. This article will provide the steps for cleaning the most common types of window blinds and shades. Regardless of which type of window treatments you have, you should dust your blinds on a weekly basis as a general rule. You should also give your window shades and blinds a more thorough cleaning every six months.
Metal and Plastic Blinds:

Pull out the vacuum. Remove any loose dust from your window blinds by using the soft brush attachment of your vacuum cleaner or a clean soft cloth. Make sure that you take the time to clean the front and the back of the blinds.

Wipe off stains and dirt. If your horizontal or vertical window blinds appear to be soiled or stained, use a moist cloth to gently scrub them. If the stain remains, add a bit of gentle dishwashing liquid or soap to the moist cloth and gently wipe the blinds.

Clean blinds with care. Be careful not to press too hard on window shades and blinds or you might damage them beyond repair. If your vertical window blinds are too delicate to clean while hanging up, remove them from the window and lay them on the floor, where you will have more space to clean them.

Take down metal blinds. If you have metal blinds hanging in your home, you can spray them off in the shower or in the yard. Be sure to dry metal blinds thoroughly before hanging them again.
Wood Blinds:

Dust wooden blinds first. Lay an old sheet or blanket on the floor beneath your wooden window blinds or faux wood blinds to catch dust and dirt. Then rub a dryer sheet along each slat to catch the majority of the static and dust. Finish cleaning wooden window blinds with a soft cloth. Make sure to close wood blinds and wipe them again to be sure you didn't miss any spots on the individual slats.

Use a wood-safe spray or oil soap. A bit of oil soap can combat the dry, dusty slats of wood blinds or faux wood blinds. Once your window treatments are clean, you can gently wipe a polishing spray onto the blinds for shine. Make sure that you polish both sides and dry them completely after spraying them with any liquid.
Fabric Blinds:

Vacuum up dust. Use the soft brush attachment on your vacuum to remove dust and dirt from your fabric blinds. If your blinds require a more thorough cleaning, take them to a dry cleaner that specializes in window treatments, especially fabric blinds.

Buy Blinds and Shades
Back to Guides Directory