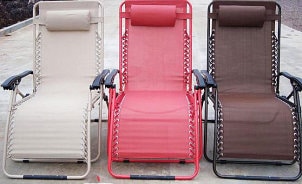 Things You Need:
Bucket
Mild dishwasher detergent
Scrub brush
Cloth
Towel
When you're looking for the perfect addition to your backyard oasis, vinyl lawn furniture is an ideal option. However, body lotions and oils can cause damage to vinyl fabric; in fact, some hotels require you to use a towel when sunbathing or drying off from the pool so that the patio furniture will have a longer life span. Vinyl fabric is porous, so it is important to protect your vinyl patio furniture from moisture and chemicals. Read on for tips on cleaning your vinyl lawn furniture.
Cleaning Vinyl Lawn Furniture:

Mix a cleaning solution. Pour a cup of mild dishwasher detergent in a bucket. Fill the bucket halfway with hot water. Allow the detergent to dissolve in the water and then mix it with a long spoon or a mixing stick so it will clean your vinyl lawn furniture effectively.

Scrub the vinyl lawn furniture. Dip the scrub brush into the bucket mixture. Scour your vinyl chairs in circles, starting at the top corner of the chair. The areas where you sit or lie are typically the dirtiest on vinyl seats. Scrub the entire piece of vinyl lawn furniture and soak the brush as needed to keep it wet while you clean.

Rinse off the soap. Dunk a cloth in fresh water and wipe your vinyl outdoor furniture down. Remove any remaining dirt and soap residue. Rinse the cloth often as you wipe down vinyl furniture. Fill a bowl or another bucket with clean water so you don't have to make several trips to the sink.

Dry the furniture with a clean towel. Completely dry vinyl patio pieces, as the material can retain moisture and become moldy or mildewed. In addition, moist vinyl seats may crack in the hot sun. Try to keep your vinyl chairs in the shade when not in use so they won't become faded, either.
Warnings:

Always use a towel when you lie down on vinyl furniture. Even when you protect it, you'll want to clean vinyl patio furniture at least once a week to prolong its life.

When rain or damp weather arrives, cover your vinyl outdoor furniture to protect the vinyl from damage

Never use harsh chemicals when cleaning vinyl patio furniture.

Buy Patio Furniture
Back to Guides Directory