by H. McGurgan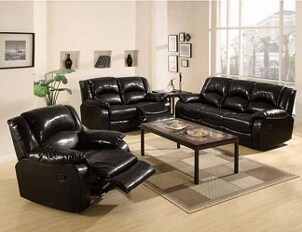 Things You Need:
Clean cloth
Leather cleaner
Leather conditioner
The rich appearance of leather and its reputation for durability make it a popular choice for furniture. Regular conditioning and cleaning of fine leather is important in ensuring that your leather sofa or chair remains supple and less likely to develop cracks. Taking the time to care for your leather living room furniture will extend the life of the items and keep the surface looking just as good as the day you made your purchase.
Cleaning Leather Furniture:

Dust leather items every week to remove surface dirt. If you don't keep up with dusting, dirt can be ground into the leather, making it more difficult to remove when you clean your leather furniture.

Wet a soft, clean cloth and spray leather cleaner on it. Rub a small amount of the cleaner on a hidden area of the leather furniture to make sure that it does not harm the leather. If there is no problem, begin applying the product to your leather item. The leather cleaner will have a slightly soapy or sudsy appearance when you apply it to the item.

Dip the cloth in clear water and wring it out. Use the damp cloth to remove any cleaner residue from the leather upholstery. You will need to periodically rinse the cloth to ensure that you are always using clean water.

Remove cushions. If your leather sofa or chair has removable cushions, remove the cushions and apply cleaner to all surfaces of the cushions. Be sure to apply the cleaner to the areas on the furniture that hold the cushions and the areas under and adjacent to the arms.

Condition and protect. Apply leather conditioner or protector to a clean, soft cloth after the cleaned leather is dry. Gently rub the cloth over the furniture to condition the leather. Let the item dry for at least three hours before using.
Leather Furniture Tips and Warnings:

Pay special attention to stitching on your leather furniture. Dirt can collect in stitching, making it necessary to clean this area, too.

Don't use soap to clean leather furniture. The pH balance of soap makes it too harsh to safely use as leather cleaner. Damage may result if soap is used on a regular basis.

Keep leather furniture away from heat sources. A leather sofa or chair placed too close to a hot radiator can begin to crack from the heat. Keep leather furniture at least 18 inches from heat sources.

Buy Living Room Furniture
Back to Guides Directory