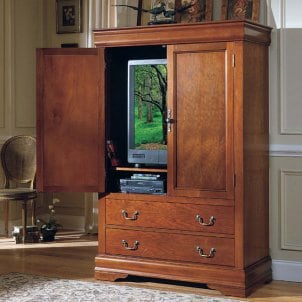 There's hardly anything more beautiful or versatile than wood furniture for your home. Whether you're looking for classic living room furniture or a contemporary dining set, wood furniture gives your home a beautiful touch. It's important to care for your wood furniture, however, to make it last and keep it looking its best for years to come. The following tips can help you determine the best way to care for your furniture.
Cleaning Wood Furniture:

Unfinished woods: For unfinished wood furniture, use a lemon oil polish. Mineral oil can also be used, but apply sparingly since mineral oil is flammable. Apply lemon oil with the grain of wood to prevent damage.

Oiled wood: Dust and dirt can easily get stuck in the finish of oiled wood furniture. To prevent this, wipe your wood furniture daily to keep it shiny and clean. Treat the wood on occasion by oiling it with furniture oil. You can even make homemade furniture oil to polish your wood furniture with by mixing linseed oil and turpentine.

Painted wood: Vacuum or wipe crumbs, dust and dirt off of painted wood furniture daily to prevent scratches and stains on the furniture. To keep your painted wood furniture at its best, you'll want to occasionally touch up the furniture by sanding and repainting it.

Polished wood: The best way to clean and preserve polished wood furniture is to wipe it daily with a soft cloth and to use liquid or aerosol furniture polish frequently. A paste wax can be used to fill deep scratches, and a liquid polish will make most minor scratches disappear.

Daily protection: You can protect your wood table surfaces from daily wear and tear with tablecloths and pads, as well as using a glass topper. Chair pads can protect wood chairs, as well. The less direct contact your wooden furniture receives, the easier it will be to preserve your furniture so it will last.

Fading and cracking: To keep your wood furniture from fading and cracking, keep it out of direct sunlight, as well as away from windows, doors and heat vents that can cause the furniture to be exposed to too much heat and cold.

Special woods: There are many specialty woods used to make wood furniture. Woods like bamboo and teak need to be wiped down with a damp cloth daily to maintain moisture, while other woods need specific cleaners. Make sure you read and understand care instructions for all your furniture.

Buy Living Room Furniture
Back to Guides Directory