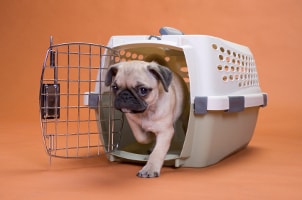 Things You Need:
Clean cloths
Soap
Warm water
Bleach
Your furry friend uses his pet carrier for car rides, trips to the veterinarian and even to sleep in at night. Whether you're dealing with muddy paws or simply pet fur, pet carriers and strollers can get dirty quickly, and it's a good idea to clean pet carriers frequently. The following steps will guide you through how to clean a pet carrier.
Cleaning a Pet Carrier:

Clean it out: To fully clean a pet carrier or the inside of a pet stroller, you'll need to remove all toys, blankets, sleeping pads and other items from inside the crate. You can usually wash bedding and toys in a washing machine separately before putting them back in the carrier, and many pet owners prefer to do so. This will help keep the pet carrier cleaner as well.

Soap and water: Using a damp cloth, wipe down the pet kennel, inside and out, with warm water and soap. You can use a scrubbing brush with soap and water for deeper stains. You'll want to be sure to use only gentle dish soap to clean crates and kennels. Harsh cleaners can be irritating to your pet's skin, and residue left over from cleaners can even make them sick.

Sanitize: If your dog or cat has accidents in his pet carrier, you'll likely need to sanitize the kennel to remove all stains and bacteria. After washing the dog carrier or cat carrier with warm water and soap, again use a damp cloth to wipe down the pet kennel with a mixture of warm water and bleach. This will kill bacteria and help remove stains from the crate.

Rinse well: Once you have washed and sanitized the pet crate, you'll want to rinse it thoroughly to ensure there is no residue leftover that coule make your pet sick. Use a clean cloth and water to completely rinse and remove soap and bleach from the dog carrier or cat carrier. For larger pet carriers, it may be easier to rinse the carrier out with a hose or bucket of water.

Dry: To prevent mold and mildew from growing inside your pet crate, make sure the crate is completely dry before use. You'll also want all bedding and toys you may have washed separately to be completely dry before placing them inside the kennel. Use a clean, dry towel to dry the inside and outside of the kennel; crates and kennels can also be set in the sun to air dry. If you're cleaning a pet stroller with fabric sides, air drying is the best way to get the carrier completely dry.

Buy Pet Carriers and Strollers
Back to Guides Directory