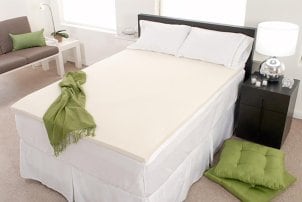 Things You Need:
Vacuum cleaner
Mild laundry detergent
Spray bottle
Clean cotton cloth
If you're not getting a comfortable rest every night, don't give up. A memory foam mattress topper can completely transform even the most uncomfortable of mattresses. The viscoelastic foam conforms to the body to alleviate stress on areas of the body that need to be cradled, like the head and neck. Memory foam absorbs water while it is being washed; however, it is possible to wash a memory foam mattress topper quickly and efficiently. Check out the guide below to learn how to clean a memory foam mattress topper.
Cleaning Memory Foam:

Remove the topper. Remove the memory foam mattress topper from the bed and place it on a hard surface in a well-ventilated area that has a window.

Vacuum. Vacuum the mattress topper with a hose attachment. Work through the foam in circular motions, removing any debris from both sides of the memory foam. Some memory foam toppers have small crevices, which increase the surface area of the foam. Work carefully to get inside every crevice of the foam.

Spot clean. Spot clean any stains with a small amount of mild laundry detergent and water on a clean cotton cloth. Gently dab at the stain with the solution.

Spray, don't soak. Load a spray bottle with one part mild laundry detergent and two parts warm water. Spray the mattress until the entire surface is covered; do not soak the memory foam. Let the solution sit for several hours.

Remove detergent. With a clean, damp cotton cloth, press the mattress until all the detergent is cleaned away. If necessary, rinse the cloth throughout the process.

Flip it. Flip the mattress topper over and spray the underside of the memory foam with the detergent mixture. Allow it to dry for several hours; then dab it with a clean, damp cotton cloth until all the detergent is cleaned away.

Dry it out. Lay the topper flat to dry in a well-ventilated area with windows. Otherwise, you risk mildew forming on the memory topper. Allow it to dry for approximately 24 hours.

Buy Memory Foam Mattress Toppers
Back to Guides Directory