How to Clean a Memory Foam Mattress Topper
by Matt Siltala
Published April 29, 2010 | Updated June 11, 2015
When you're deep cleaning your home, you may want to pay special attention to your bed. A memory foam mattress topper can completely transform even the most uncomfortable mattress, but accidents do happen, and an accumulation of dust in even the most comfortable bed can prevent a good night's sleep. If it's time to freshen up your mattress topper, you may be wondering how it's done. Memory foam absorbs water while it is being washed; however, it is possible to wash it efficiently.
Cleaning Memory Foam: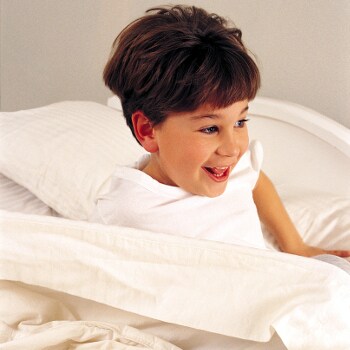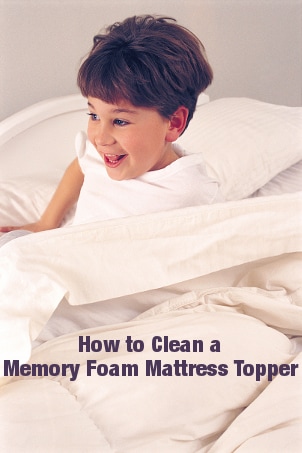 Shop Memory Foam Mattress Toppers ▸
Things You'll Need
Vacuum cleaner
Mild laundry detergent
Spray bottle
Clean cotton cloth
Take It Off the Bed

Remove the memory foam mattress topper from the bed and place it on a hard surface in a well-ventilated area that has a window. You may want to place something underneath to protect the floor from water, like a tarp.

Clean the Dust and Debris

Vacuum the mattress topper with a hose attachment. Work through the foam in circular motions, removing any debris from both sides of the memory foam. Some memory foam toppers have small crevices, which increase the surface area of the foam. Work carefully to get inside every crevice of the foam.

Spot Clean

Spot clean any stains with a small amount of mild laundry detergent and water on a clean cotton cloth. Gently dab at the stain with the solution.

Spray, Don't Soak

Load a spray bottle with one part mild laundry detergent and two parts warm water. Spray the mattress until the entire surface is covered; do not soak the memory foam. Let the solution sit for several hours.

Remove Detergent

With a clean, damp cotton cloth, press the mattress until all the detergent is cleaned away. If necessary, rinse the cloth throughout the process.

Flip It

Flip the mattress topper over and spray the underside of the memory foam with the detergent mixture. Allow it to dry for several hours; then dab it with a clean, damp cotton cloth until all the detergent is cleaned away.

Dry It Out

Lay the topper flat to dry in a well-ventilated area with windows. Otherwise, you risk mildew forming on the memory topper. Allow it to dry for approximately 24 hours.
Memory Foam Mattress Topper Cleaning Tip
Unless there has been a spill or an accident, it's a good idea to only deep clean your memory foam products about once a year, such as when you do your spring cleaning.