How to Clean a Leather Watch Strap
by Randall Shatto
Watches complete your wardrobe and keep you prompt. The right watch can completely transform an outfit by adding class, elegance and style. Leather watches go well with practically every outfit selection and can be dressy or casual. Keeping your watchbands clean will not only help your timepiece look its best; it can also ensure that the watch and watch straps maintain their value. You should clean your leather watch strap regularly. Clean leather watchbands promptly after a hike, a day at the races or a vacation. Dust, dirt and sweat can collect on leather watch straps easily and cause stains, odors and wear and tear. Use our tips to keep your leather watchband clean.
Cleaning Leather Watch Straps: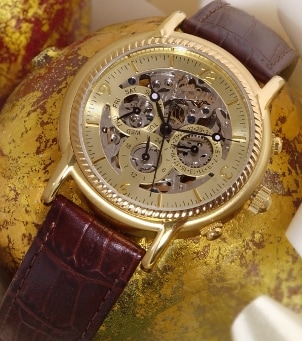 Shop Watchbands ▸
Things You'll Need
Two cotton cloths
Hand soap
Leather conditioner
Saddle soap
Leather oil
Wipe the watchband with a dry cloth.

Moisture is easily trapped between a leather watchband and your skin. It is important to wipe moisture and dirt from a leather watch strap regularly. Wiping your leather watch strap before cleaning it more thoroughly will ensure that dirt will not scratch the leather when you are scrubbing it. A soft cotton cloth or microfiber jewelry cloth is great for wiping a leather watchband.

Scrub the watchband with soap and water.

Pat down the leather watch strap with a damp cloth. Avoid using a wet cloth or immersing the leather in water. Put a small dab of mild, moisturizing hand soap on the cloth and scrub the watchband on both sides. Rinse and dampen the cloth with clean water and wipe the watchband clean. Dry the watchband thoroughly, and then allow the strap to air-dry before wearing the watch.

Condition the watchband with leather conditioner.

Leather conditioner keeps leather moist, which can prolong the life of a watchband and make it look shiny and feel soft. You can buy professional leather conditioner quite affordably in a variety of sizes. Follow the instructions on the package when using leather conditioner.
Cleaning Unfinished Leather Watchbands
Some leather watchbands are made with unfinished leather. Unfinished leather should be cleaned with saddle soap instead of hand soap. Condition unfinished leather watchbands with oil, such as mink oil or a leather preservative.