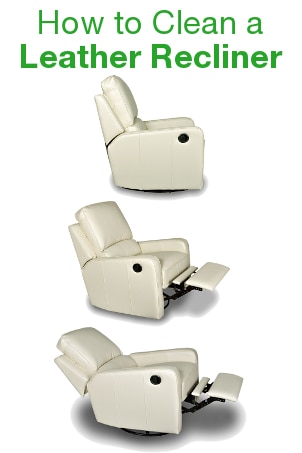 SHOP LEATHER RECLINERS NOW >>
Things You Need:
Vacuum
Leather cleaner
Bucket
Water
Rag
Clean, soft cloth
Whether it's in your living room or in the man cave, your leather recliner needs to get cleaned now and then. If it's Dad's favorite spot to watch the game -- and eat snacks at halftime -- then it probably even needs regular deep cleaning. Fortunately, cleaning a leather reclining chair is surprisingly easy. You'll be able to make your leather furniture feel fresh and clean in no time.
Cleaning Leather Recliners:

Vacuum it regularly. This is a precaution against dirt and dust getting ground into the leather. Vacuum it at once a week and after a party or other event where someone may have sat in it and eaten snacks. When do a monthly deep-cleaning, start with a thorough vacuuming. Don't press too hard with the vacuum; leather is easily scratched. Be sure to open up the recliner to get into all the cracks.

Dilute leather cleaner. Prepare a cleaning solution by diluting commercial leather cleaner in a bucket of warm water. Many leather furniture owners swear by saddle soap, which you can usually find at hardware stores or feed stores.

Wash it. Dip a rag in the bucket of cleaning solution, wring out excess water, and then work over your recliner with the damp rag, taking care not to soak the leather. Make sure to clean all the nooks and crannies and less-visible places as well.

Remove cleaner. Once you've covered the leather recliner in cleaner, it's time to wipe it off with a rag dipped in warm, clean water. Be sure to remove the cleaner completely without getting the leather too wet.

Dry it thoroughly. After wiping your leather recliner down with warm water, dry it with a soft, clean rag or cloth. Dry it carefully and thoroughly, as leaving leather wet can cause damage and discoloration.

Oil it. Some leathers require preservative oil applied on a regular basis to keep the leather from cracking. Make sure you read all instructions that come with your leather recliner to give it the best care it needs and deserves.

Treat stains. If there is a stain, make sure you blot it. If you wipe or scrub the stain, you could embed the stain into the leather. For more information about specific stains on leather, read our guide on cleaning leather sofas.

Shop Leather Recliners
Shop Faux Leather Recliners
Shop All Recliners
See All Guides
Read More Furniture Guides
Learn More about Living Room Furniture