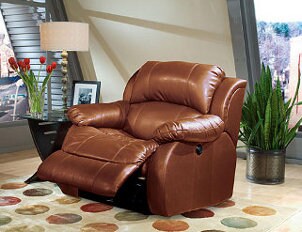 Things You Need:
Vacuum
Leather cleaner
Bucket
Water
Rag
If you want your space to look great, leather recliners are a good place to start. Leather recliners are beautiful when they're clean, but when they're dirty, they are more of an eyesore than the eye-catching piece of furniture you initially bought. Fortunately, learning how to clean a leather recliner is surprisingly easy. Take the time to figure it out and you'll be able to make your leather furniture investment shine.
Cleaning Leather Recliners:

Prevent dirt and stains. This is the best way to keep your leather recliner clean. Protecting your recliner from dirt, stains and scuffs is easier than you think. When it's not in use, cover your leather furniture with a sheet to fend off dust. This will keep it perfectly preserved until you need it for casual events. You can cover it with a decorative blanket or afghan during those casual events as well, giving your leather recliner an extra measure of protection when guests sit on it or eat around it. This will keep your recliner looking new for years to come.

Vacuum it regularly. This is a precaution against dirt and dust getting ground into the leather recliner. If you do need to clean your leather recliner, start by vacuuming dust and dirt off of it. Don't press too hard with the vacuum; leather is easily scratched.

Dilute leather cleaner. Prepare a cleaning solution by diluting commercial leather cleaner in a bucket of warm water.

Wash it. Dip a rag in the bucket of cleaner, wring it out and then work over your recliner without soaking the leather. If there is a stain, make sure you blot it. If you wipe or scrub the stain, you will further embed the stain into the leather. Make sure to clean all the nooks and crannies and less-visible places as well.

Remove cleaner. Once you've covered the leather recliner in cleaner, it's time to wipe it off with a rag dipped in warm, clean water. Be sure to remove the cleaner completely without getting the leather too wet.

Dry it off. After wiping your leather recliner down with warm water, dry it with a soft, clean rag or cloth. Dry it carefully and thoroughly, as leaving leather wet can cause unsightly damage.

Oil it. Some leathers require preservative oil applied on a regular basis to keep the leather from cracking. Make sure you read all instructions that come with your leather recliner to give it the best care it needs and deserves.

Buy Recliners
Back to Guides Directory