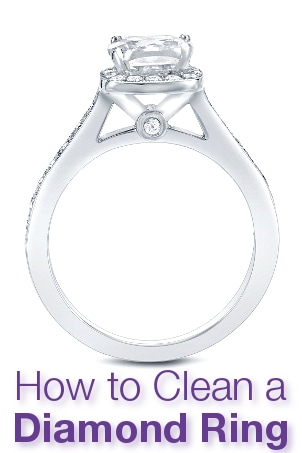 SHOP DIAMOND RINGS NOW >>
Things You Need:
Soft-bristle toothbrush
Three glass bowls
Rubber gloves
Lint-free cloth
A sparkling diamond ring on your finger is an attention-grabber, but it also attracts dirt from everyday wear. To keep your special piece of jewelry twinkling, periodically ensure that the diamond, setting, and ring are free from dirt and grime. Instead of taking it to a jeweler or using harsh commercial solutions, clean your diamond ring at home each week with everyday household products. Follow these steps to keep all of your diamond rings clean and shiny.
Cleaning a Diamond Ring:

Prepare your ring cleaning area. Always clean rings and other jewelry away from open drains. Use a large, flat surface, such as a kitchen table. Make sure you have all your bowls, tools, cleaners, and cloths ready before you begin.

Soak the ring. Fill a glass bowl with a solution of 1/4 cup ammonia and 1 cup warm water. Let the ring sit in the solution for 15 to 20 minutes to loosen dirt and grease. Be sure to use ammonia only in a well-ventilated area.

Prepare the soapy solution for cleaning. While the diamond ring is soaking in the ammonia, prepare a mixture of 1 cup warm water and 1/2 teaspoon mild dish soap in another glass bowl, stirring with a spoon to combine until sudsy. Put on the rubber gloves, remove the ring from the ammonia solution, and gently place it into the soapy water. Swish the diamond ring around in the soapy solution for 10 seconds to rinse off all of the ammonia solution.

Brush the ring. Take the ring out of the soapy solution and brush the setting with a dampened soft-bristle toothbrush to fully remove any remaining dirt. Brush the top, sides, and bottom of the diamond's setting, getting the bristles into all the small crevices. Finish by brushing the side stones and the rest of the ring in the same manner. Be careful to brush gently so that the bristles do not loosen the diamond setting or scratch the metal.

Rinse and dry the jewelry. Fill the third bowl with warm water and dip the diamond ring into it four or five times for a final rinse. Dry the ring thoroughly with a lint-free cloth. Do not air dry, as this may leave hard water spots on the diamond.

Shop Diamond Engagement Rings
Shop Diamond Bridal Sets
Shop All Diamond Rings
See All Guides
Read More Jewelry Guides
Learn More about Diamonds
Published April 29, 2010
Updated January 8, 2015