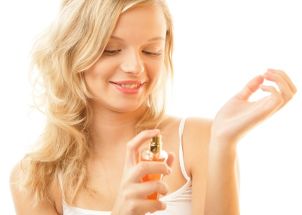 Choosing your signature perfumes and fragrances doesn't have to be a challenging task, but it will probably take a bit of time. Perfume can be used to express your personality, and since it can remain long after you've left the room, both women's perfume and men's cologne will have great impact. Read on for tips on choosing the perfume or cologne that fits your style and smells great each time you put it on.
Buying Original Fragrances:

Find fragrances that fit your mood. Fragrances should reflect your personality or project a mood or feeling you want to convey. If you want to smell great on a date, for example, you could choose women's perfume with a romantic air to it. For the office, oriental fragrances can give you a sense of empowerment, and light, fresh men's cologne is perfect for lazy weekend days or evenings relaxing at home. Choose different fragrances for different settings, especially if your primary women's fragrances and men's fragrances are strong; you'll want lighter designer fragrances for daytime.

Keep your body's chemistry in mind. The scents of popular fragrances will change slightly when worn by different people, especially men and women. New cologne will usually smell heavier while still in its bottle, so don't rule out any potential fragrance without first spraying it on your skin. In addition, remember that both cologne for men and perfume for women will smell different after it has been on your skin for awhile. Give designer fragrances a chance to absorb before deciding on your favorites.

Buy fragrances both you and your partner like. If you're worried your spouse or partner won't like the men's fragrances or women's fragrances you've chosen, bring him or her along to help you pick the perfect scent. It is important that you're happy with the perfume for women or cologne for men you've chosen, but you should also keep your partner's tastes in mind. Make sure he or she does not have allergies to certain fragrances, either.

Get a small size to begin. If you're buying a bottle of perfume or cologne for the first time, you may want to buy a tiny bottle to make sure the fragrance is best for you. Even a small bottle of perfume can last a long time, so you'll still have plenty of fragrance if you love the scent.
Perfume Tip:

Make sure that there are no harmful side effects after using your new perfume. It may take some time to see how your skin chemistry works with the selected perfume, but it is definitely worth the effort.

Buy Perfumes and Fragrances
Back to Guides Directory