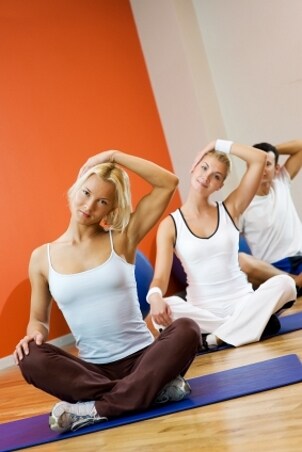 Yoga is a healthy activity that can be done with very little to no equipment. However, yoga and Pilates equipment, beyond a yoga mat, can help improve your yoga experience and offer greater benefits. Some yoga equipment is designed to accelerate the improvement of beginning yoga practitioners, whereas yoga clothing can benefit everyone.
Buying Yoga Equipment:

Yoga mats: A yoga mat is probably the most essential piece of yoga equipment. The main purpose of a yoga mat is to give you proper traction while performing yoga poses. The synthetic materials most yoga mats are made of are good for not sliding on hardwood floors or other surfaces. Yoga mats are also beneficial because they offer some cushioning between your body and the floor, making many poses more comfortable. The main consideration when buying a yoga mat is that the length is adequate. If you want more cushioning, getting a thicker yoga mat might be a good idea.

Yoga clothing: It is important to have yoga clothing that moves well with your body. Choosing pants made of a cotton-spandex blend or loose-fitting cotton will allow you the best compromise of breathability and stretch. Tank tops and T-shirts that will keep you cool and not restrict your movement are ideal. Yoga socks have beads of a sticky, synthetic substance on the sole to give you better grip. Some yoga socks also have individual toes to allow for better balance.

Yoga accessories: Yoga blocks are commonly used by beginners who haven't developed the flexibility to reach the ground with their hands in some poses. Yoga belts and ropes also help develop flexibility in those who don't yet have the ability to grasp their hands behind their back. Yoga balls allow some yoga poses to be performed while seated, aiding in the development of balance. These yoga accessories should be purchased as needed to aid in your development.

Instructional aids: With the price of yoga classes, you may prefer to practice yoga at home. Fortunately, there are several books that explain the practices and poses used in yoga. Instructional yoga DVDs and videos not only explain how to do each pose, but usually provide you with multiple yoga routines to follow along with, so it feels like you are in a yoga class but in the comfort of your home.

Buy Yoga and Pilates
Back to Guides Directory