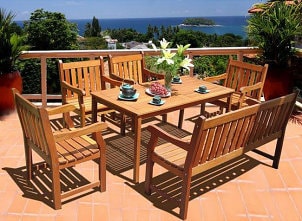 Outdoor furniture is available in many materials to suit different outdoor areas. Steel and wicker outdoor furniture are both perfect for the porch or balcony, while a wrought-iron bistro set looks great on the patio. Wood garden furniture, from outdoor benches to dining tables, looks fabulous in the garden. There are many different kinds of wood to choose from, so finding the right outdoor furniture for your garden is easy no matter what style of garden you have.
Choosing Wooden Garden Furniture:

Quality: If you don't plan on moving your garden furniture inside during wet weather, purchase wooden garden furniture that will age well and handle weather during the changing seasons. Wood that has been stained or sealed will weather better than others. Pick a high-quality wood such as eucalyptus or acacia for furniture that will always be outdoors. Some woods, especially teak, can handle adverse weather without being stained or sealed, though the color will change over time unless the wood is regularly oiled.

Cost: Determine how much you want to spend on your wooden garden and patio furniture. Prices vary widely depending on the piece and the kind of wood it's made out of. For instance, teak furniture is often more expensive than cedar. Evaluate your budget and stick with it when looking for wooden furniture for your garden.

Style: Pick wooden garden furniture that matches the look and design of your garden. If you have a lot of light-colored objects, such as a white picket fence, white cedar garden benches tie in the light color of the rest of the garden. Darker wood designs, such as stained mahogany bench, will look appropriate in a heavily wooded garden setting.

Function: Assess your garden furniture needs. Do you need garden seating for garden parties and multiple guests? Wooden benches seat as many as three people, while an arrangement of wooden garden chairs, such as Adirondack chairs, provides comfortable seating for small groups. Choose wooden side tables for guests to set their drinks on or even for an outdoor dining table for special occasions.

Size: Evaluate the open space in your garden. Sizes vary when it comes to wooden benches, chairs and dining tables. Use a tape measure to size up the space.

Buy Wood Garden Furniture
Back to Guides Directory