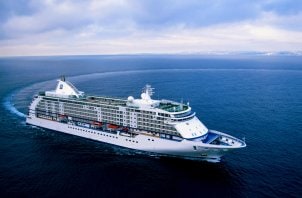 Your cruise vacation should be the ultimate getaway. Ensure your rest and relaxation by choosing the perfect travel accessories. Thinking of all the travel accessories you may need for a cruise may seem intimidating, but don't fret; it's actually a painless process. Take a look below for some tips on how to choose travel accessories for your cruise.
Choosing Travel Accessories:

Think about your health. Make a list of any specific medical or dietary needs you have and calculate the supplies you'll need for the duration of your getaway. This will help you decide what size and style of medication organizer and similar travel accessories to take with you. If you don't have many medications or special dietary items to take with you, you may only need a toiletry bag or cosmetic pouch.

Know where you're going. Make a list of all the places your cruise will be taking you, along with any planned excursions you will be taking. Knowing where you're traveling will help you decide if you need travel accessories such as a passport case, a waist bag, a mini umbrella or other handy items. Depending on the sophistication of the cruise or where you're going, you may want to consider travel accessories like jewelry cases or shoe polishing kits.

Don't forget a backpack. When you're selecting luggage for your cruise, keep a backpack in mind. Having portable luggage will allow you to tote all your most crucial travel accessories with ease. Fanny packs, wallets and purse organizers could also be useful.

Pack for the unexpected. First-aid and sewing kits are must-have travel accessories because you never know when you may need a band-aid or a button. Many come in very small sizes to fit in your waist bag, purse or backpack.

Pack to have fun. Vacations like cruises take you to exotic places, so be prepared to capture the best moments. Travel accessories like durable camera cases will protect your equipment and usually fit into fanny packs and purses. Steno notebooks will let you write down your experiences, send letters to friends and family and copy down favorite destinations and recipes.
Tip from Overstock.com:

If you have to fly to get to your cruise's starting point, remember to pack airline-friendly. The backpack you use to hold the essentials at each port could be your carry-on, for example. Invest in a set of TSA locks to keep your luggage safe and a digital scale to be sure you meet airline baggage restrictions.

Buy Travel Accessories
Back to Guides Directory