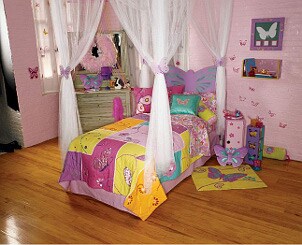 If your child is upgrading from a crib to a standard bed, toddler bedding is the perfect way to make the transition easier. Kids' bedding comes in a wide variety of styles; you'll find everything from character comforter sets to classic children's quilts. Whether you're new to the world of toddler bedding or are looking to update your child's current bedding style, this guide will help you discover how to choose toddler bedding that will delight you both.
Choosing Toddler Bedding:

Size it up. The first thing to think about when purchasing new toddler bedding is the size of your child's new bed. Most parents choose twin beds and twin bedding for their toddlers, but children's bedding also comes in full, queen and king sizes.

Look at the scheme of things. If you want to change the look of your child's room without taking on a complete room makeover, you may want to think about buying boys or girls' bedding that matches the current theme of the bedroom. Sticking to the same color scheme as your child's nursery can help ease him or her into a larger bed. If you're replacing existing toddler bedding with something more updated, looking for children's bedding that fits your current decor makes reusing bedding accessories like throw pillows easy.

Think about trendy vs. timeless. Kids' character bedding will delight your child, but it may not be the most timeless option. If you're looking for toddler bedding that will grow with your child, look for something with subtle patterns or texture. This sophisticated kids' bedding can still be fun and whimsical while providing some growing room. Add fun blankets and decorative character pillows that can easily be changed out as tastes change.

Let your child make the final choice. Once you've narrowed down your choices, the best thing to do is let your child help choose which bedding he or she wants. A child's room is a place to learn and grow, so you may want to make sure the toddler bedding you pick out together reflects that. Show them each of the options you've picked out and see which one inspires them the most.

Buy Kids' Bedding
Back to Guides Directory