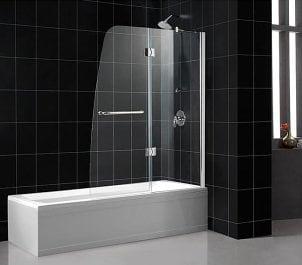 Shower tiles serve two functions: They add to a bathroom's decor, and they protect the drywall underneath from moisture. There is no limit to how you can use wall tiles, from borders to shower murals. What you choose will depend on several factors, including your color scheme, the material used for the tile and maintenance in the future. Take a look below to learn how to choose tile for a shower.
Choosing Shower Tile:

Select water-resistant tiles. Glazed tiles are ideal for showers because, unlike quarry tiles, they will not absorb moisture, which leads to mold. If you plan to tile the shower floor as well, choose tiles that are also slip-resistant.

Select tiles based on the material. Shower tiles are available in ceramic, glass, porcelain, metal and stone. Each has its own appeal, and prices vary accordingly.

Choose your colors carefully. If you plan to maintain the same bathroom decor for a long time, avoid trends. Instead, choose colors that look timeless, such as earth tones. Neutral colors will also allow you to redecorate the rest of the bathroom without having to change your wall tiles.

Determine your design. You can choose between plain and patterned tiles to fit any design you have in mind. Some tiles lend themselves well to pictorial images on shower walls, while others are best for borders.

Consider cost. Using certain tiles, such as glass and marble, to cover your shower walls may be cost-prohibitive. If you have a strict budget but would still like to incorporate these tiles in your design, use them as accents. Intersperse them with less expensive tiles or use them as borders around the edges of the tiled wall.

Determine the number of tiles you need. Do you need enough to tile the shower completely or just enough to cover one shower wall? Figure out how many tiles you need before you begin.

Think about the size of your shower. If your shower is small, you may not have enough space to create a repeating design with large tiles; however, a design made of smaller tiles may be just right.

Imagine future maintenance. Small tiles require the application of more grout, which will lead to more work during cleaning. Think about the time and effort you'll be able to devote to future maintenance before making any buying decisions.

Buy Wall Tiles
Back to Guides Directory