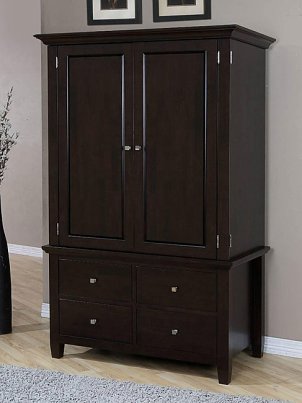 Picking out the right wardrobe for the bedrooms in your home is an important decision. Considering wardrobes are one of the most used pieces of furniture in the home, you should make sure to pick out ones that are functional and match your personal sense of style. Whether you think an armoire or a chest of drawers would be best for your home, here are a few tips to make sure you pick out the best wardrobe for your bedrooms.
How to Choose a Wardrobe:

Consider your requirements. Before you pick out the perfect wardrobes, think about what you need. Do you just need loads of basic storage space? A chest of drawers might be the way to go. Do you need some more hanging room? Then an armoire is perfect for your room. In fact, bedroom armoires come in a variety of shapes and styles, some with large amounts of closet space to hang clothes, while some armoires have several drawers with a small closet space. There are even jewelry armoires specifically designed to store jewelry. If you can dream it, chances are there is an armoire made for it. Whether you are looking for wardrobe closets or a wardrobe cabinet will depend on the type of clothes you have, so examine exactly what it is you are looking to store.

Measure your space. No wardrobe, chest of drawers or armoire will be worth much if it can't fit in the space you have. If you need to fit something into a tight space, consider picking up a corner armoire. When measuring wardrobes, or any bedroom furniture for that matter, make sure to measure any trim at the bottom or top that might extend the frame.

Check for style. Remember, the wardrobes you choose will probably be in your house for a number of years. Whether you pick an armoire, chest of drawers, wardrobe closet or a wardrobe cabinet, make sure you choose one you'll be happy to have in your room.

Read reviews. If available, read reviews on any wardrobes you are considering. Customer reviews are especially valuable if you want to know how a wardrobe, armoire or chest of drawers will perform in the real world.

Buy Armoires
Back to Guides Directory