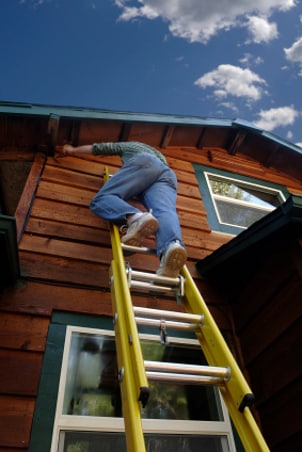 A durable ladder provides the best way to safely accomplish those hard-to-reach home improvement projects and repairs. Any work on your roof or with trees in your yard may require an extension ladder, which folds or telescopes to extend its reach. Finding a sturdy extension ladder that will serve you for years to come is as simple as asking yourself a few questions. Below are some points to cover in your ladder search.
Choosing an Extension Ladder:

Determine what height you'll need. How high will you need your extension ladder to reach? If you're choosing a ladder to reach the roof of your house, use a measuring tape to determine the height of the edge of your roof. To safely reach your roof, a flat telescoping ladder needs to be at about a 15 degree angle to the side of your house. That means you'll probably need an extension ladder that is at least 3 feet taller than the edge of your roof. Check the maximum extension height for the ladder to see if it meets those measurements.

Look for lightweight materials. Aluminum ladders are the most common, but you may find other extension ladders featuring aluminum alloys that support more or less weight. A wooden ladder of the same size would weigh a lot more and wouldn't be as steady as an aluminum ladder. Check the listed weight maximums. A lighter extension ladder may be easier to fit in your truck or haul out of the garage, but it may not safely support your weight plus whatever you're carrying up to the roof.

Consider your storage space. If you're taking your extension ladder on the go or you have limited space in the garage for it, you may want to consider a folding ladder or a telescoping ladder that collapses into a length of just a few feet. A compact extension ladder may sacrifice strength, so be sure to check weight restrictions.

Choose a collapsible ladder type. Extension ladders are all, by definition, collapsible to some extent. But you have a choice between one that folds open to lock into place and one that simply slides out to its full length. Your choices may be limited by how much storage space you have and what length you need.

Buy Extension Ladders
Back to Guides Directory