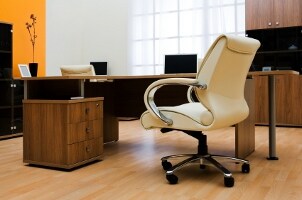 Choosing the perfect bookcase for your office is easier than you think. You want your bookcase to reflect the professional atmosphere of your office. You'll need to take some time to find one that matches your office's furniture. Although many options are available, there are ways to cut down on your shopping time so you can get back to the office for more important things. Keep reading for tips on how to choose the perfect bookcase for your office.
Choosing the Perfect Bookcase:

Size. You want your bookshelves to blend easily into your office. A bookcase that is too large for your office will make the room look smaller than it really is. It will also take up too much room and make your office look cramped. On the other hand, a small bookcase just set against the wall without any thought beforehand will look out of place. Measure your office walls and find out what your limits are concerning height and width and then conform to them. A perfectly proportioned bookcase will improve the way your office looks.

Style. It's important that your bookcase match the rest of your office furniture. A bookcase that clashes with the rest of your office decor can make a bad first impression on clients who expect a professional atmosphere. Consider the style of your office and any pre-existing furniture when shopping for a bookcase. If your office has modern furniture, then an ornately carved wood bookcase will look painfully out of place. At the same time, a modern black bookcase will stick out in a country-styled office. By matching your new bookcase to your pre-existing office furniture, you ensure that it will seamlessly blend in and fit with the rest of your office.

Storage. Consider what you'll store on your office bookshelves and plan accordingly. Make sure your bookcase will hold what you need it to. Avoid investing in a lightweight bookcase if you need to store large law books. If possible try to buy a bookcase with adjustable shelves. This will not only ensure that you can put your shelves at the proper height, but installing the shelves at alternating measurements will create visual interest in your bookcase and office.

Location. If you find yourself scooting around your bookcase to get to another part of the room or if you have to get up and down constantly throughout the day to retrieve something from your bookcase, then it's time to make a change. Make sure that you have enough walkway to get around your bookcase and that it's close enough to reach the books stored on it if you use it often. Look around your office and decide where you're going to put your new bookcase and measure the space to see if will fit.

Buy Book and Show Cases
Back to Guides Directory