How to Choose the Best Wood Patio Set
by Christina Wright
A beautiful patio furniture set enhances a home's unique ambiance, but before purchasing a patio set, you must consider what style best suits you and your home. There are many great materials for outdoor garden furniture such as patio sets, with wood being a popular favorite. There are actually several beautiful and durable woods that make fantastic patio sets and accentuate the natural setting you're probably looking for in outdoor patio furniture.
Patio Set Wood Options: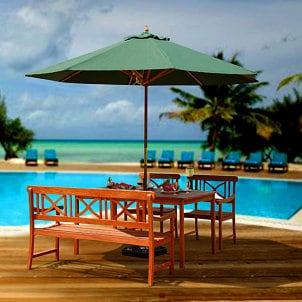 Shop Patio Furniture ▸
Oak, maple, pine and cherry:

These tree woods have long been used to create exquisite indoor furniture; these may also be used in a patio set if properly treated. Treatment for some of these woods involves multiple steps and can be expensive, but the beautiful shades and grains might be worth it for you. Pressure-treated pine is a popular option for patio sets and other outdoor garden furniture, such as Adirondack chairs, because of its low price and general availability.

Teak:

Teak is a hardwood evergreen from Southeast Asia: dense, heavy and durable. It repels water and resists warping -- an excellent wood for patio sets in climates with dramatic temperature changes. The wood's natural oils protect it, so it does not require staining or painting, and weathered teak gains a beautiful silvery-grey patina. Teak does not grow quickly and must be imported, so it is more expensive than other woods; however, its durability makes it one of the best wood choices for your patio set.

Acacia:

Acacia is a fast-growing hardwood tree with various species in Africa, Hawaii and Australia. It is prized as an outdoor patio furniture material due its durability, lustrous finish and rich shades. Acacia stands up well to the elements, and although it's not quite as durable as teak, it is still a very popular patio set material. You can recognize acacia furniture by its thin grain and flame design.

Cedar:

Cedar wood is prized for its subtle fragrance and warm tones of light golden reds to deep honey browns, which make it a beautiful patio set wood. Its natural oils and fragrance repel insects, bacteria and fungi, and its natural resistance to decay makes it a great patio set and patio dining furniture material in moist or humid climates. However, this wood needs maintenance and occasionally must be refinished.

Eucalyptus:

Eucalyptus is a native of Australia; like teak, it is a durable wood and naturally resists insect infestation and moisture damage, making it a fantastic patio set material. Eucalyptus forests grow back very fast, making it a more ecologically friendly option than teak.

Cypress:

Cypress is another durable wood that is popular for patio sets and patio dining furniture. It naturally resists decay and warping. Cypress doesn't contain much sap, so it takes stain and paint well.
Tip from Overstock.com
If you are interested in being ecologically friendly, consider buying a patio set made of wood from forests certified by the Forest Stewardship Council. The FSC is a non-profit organization that promotes forest management based on their ideals of economic viability and environmental responsibility. To learn more about the certification process, visit the Forest Stewardship Council's web page at www.fsc.org.