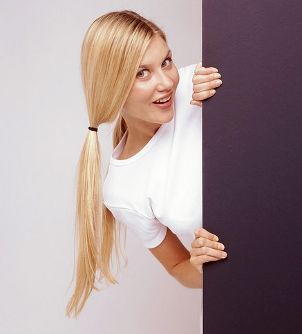 The trick to getting glossy, straight hair is to use a flat iron. Hair straighteners, also known as flat irons, use heat to iron out the kinks in each strand of hair. Whether you have slightly wavy hair or thick, tightly curled locks, a straightener flattens the follicle of your hair better than a blow dryer and paddle brush alone. The key to optimum hair care and straightening without damage is choosing the best flat iron for your hair type.
Choosing a Hair Straightener

Consider the natural texture of your hair. Thick, coarse hair will require a hair-straightening iron that heats up to high temperatures, but thin, fine hair can be damaged by high heat. If you have fine hair, shop for hair irons that offer a variety of heat settings. Digital flat irons let you choose the exact temperature to avoid damaging your hair with too much heat.

Choose the right size. Hair straighteners come in many sizes and widths. Small, thin flat irons are great hair care tools for men and women with short hair. Small hair irons are also perfect for styling bangs and spikes, and they travel well. Large, wide hair straighteners cover more surface area and are good choices for individuals with long or thick hair.

Select a hair straightener with the right features. Hair tools come with a variety of features. If you have naturally curly hair, you might like a flat iron that has built-in comb teeth or steam functions that can tame and set unruly tresses. Cordless flat irons are great for jet-setting men and women, and instant-heat hair straighteners are perfect for people who don't have much time to get ready in the morning.

Take a look at ceramic flat irons. Ceramic hair straighteners are great for smoothing out hair and reducing frizz. Ceramic holds heat very well, allowing a ceramic flat iron to achieve high temperatures; plus, ceramic plates encourage even heat distribution. You can choose between ceramic flat irons with ceramic plates, ceramic coating, or tourmaline plates. Tourmaline is actually a gemstone, but it works like ceramic on flat irons.

Buy Flat Irons
Back to Guides Directory