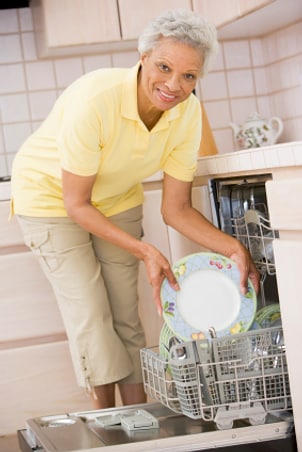 Choosing a dishwasher is a personal decision based on many factors. Like other large appliances, dishwashers vary widely in performance, the amount of water used, size, style and options. In fact, it is hard to define the best dishwasher when there are so many variables. For example, the best dishwasher for a bachelor could be a compact dishwasher perfect for a loft apartment while the best dishwasher for a family of five may be a large stainless steel dishwasher that will hold up under years of heavy use. Before you make your choice, you must first determine what is most important to you in a dishwasher.
Choosing the Best Dishwasher:

Determine your budget. Dishwashers range widely in price. Setting a budget will allow you to examine the choices within that budget, so you won't waste time on evaluating options you can't afford.

Decide which type of dishwasher you want. Most dishwashers are slide-in models, which means they slide into a space between your bottom cabinets. Measure this space to determine the width of your new dishwasher. Others are stand-alone dishwashers, like countertop dishwashers, which means they can be moved around your kitchen. You can also find compact dishwashers that fit well into small spaces.

Decide which options are the most important for you. Do you really need a delayed start? Maybe you want to go green and will only consider an energy-saving dishwasher. Perhaps you only want stainless steel dishwashers. You can buy the quietest dishwasher out there if you are willing to spend the money, or you can save and endure more noise. Make a list of the options you can't live without.

Think about capacity. If you have a large family, you probably want a large dishwasher with adjustable racks. In this case, narrow down your options to those dishwashers that offer a lot of space. If you don't have a large family and you don't have much room, look for small dishwashers.

Find out if the dishwasher comes with a warranty. How long does the warranty last and what does it cover? This might be an important factor in determining which dishwasher you purchase. Reading dishwasher reviews can also help you find out which brands are known to last the longest.

Buy Dishwashers
Back to Guides Directory