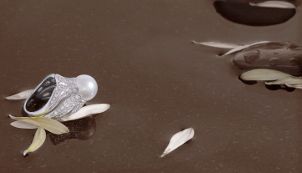 Vintage jewelry is becoming more and more popular. Ring lovers have found that vintage rings allow them to embrace unique style without using up extra resources. An antique ring or estate ring adds eye-catching style to your jewelry box, but won't require manufactures to mine more gold or gemstones. Just because vintage rings and other antique jewelry are eco-friendly doesn't mean they aren't also romantic. If you are shopping for a ring for an engagement, an anniversary or a birthday, consider estate rings. Vintage jewelry has such intricate and interesting details, giving it a leg-up in the romantic jewelry world. Use our tips to choose an antique ring and other pieces of vintage jewelry that will delight and surprise your romantic partner.
Choosing Romantic Vintage Rings:

Consider gemstones: Many pieces of estate jewelry have gorgeous and valuable gemstones. Vintage rings with diamonds, pearls, rubies, sapphires, emeralds and opals will light up her face as soon as she opens the box. Gemstone antique jewelry makes a grand statement, and vintage diamond rings are perfect for engagement rings. Consider buying estate jewelry with your wife's birthstone to really impress her.

Splurge on gold: Vintage rings come in many materials, but gold is one of the most romantic metals to consider when shopping for jewelry gifts. Many vintage rings feature 14k or 18k solid gold. Some antique rings will be gold-plated over sterling silver to give you the look of gold for less. Invest in gold antique jewelry to give an heirloom piece to someone special.

Contemplate style: Different jewelry styles will send different messages to a romantic partner. Heart-shaped diamonds set into gold rings, for example, are both romantic and youthful. Floral antique rings are beautiful, but will usually appeal to a more mature jewelry lover. Cameo rings can be perfect anniversary gifts, but they may not be the right engagement ring choice. Keep your girlfriend's style in mind when buying her a romantic vintage ring.

Think about history: Antique jewelry is available in many different categories. Victorian jewelry comes from the 1800s and traditionally features ornate nature-inspired designs. Art Deco rings come from the 1920s and have a clean lines and international flair. Art Nouveau jewelry comes from the early 1900s and incorporates intricate floral and butterfly designs. When looking for a romantic vintage ring, check for pieces that have been engraved. Vintage engravings from the previous owners can enhance the significance and sentimental value of the ring.

Buy Estate Rings
Back to Guides Directory