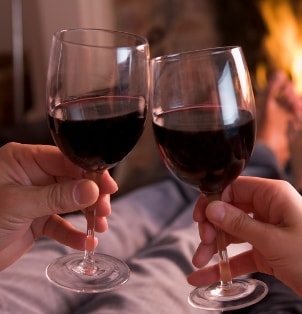 Red wine may remind you of tropical-themed songs, snowy days by the fire or romantic, decadent dinners at your favorite bistro. An oaky, spicy or fruity red wine is the perfect accompaniment to a variety of meals. A dizzying array of red wines may leave you feeling confused about which wines are right for your parties. Choosing red wine is a little more involved than choosing white wine and pink wine because red wines often have more complex flavors. Use these tips to enjoy red wine with your favorite foods.
Choosing Red Wine:

Select the right wine for your food: You've seen wine pairing suggestions on restaurant menus, but you haven't wanted to take the time to understand the science behind these proposals. It really isn't that complicated to pair wine with food. The number one thing to remember is to match wine flavors to food flavors. Red wine is often robust and spicy, which makes it a good choice for strong sauces and juicy red meats. Red wine also has more tannins than white wine. Tannins give wines their acidity. Wines with a lot of tannins are ideal for cleansing the pallet while eating rich and fatty foods. Red wines go well with butter sauces and rich fillings.

Select wine to enjoy without food: You may often find that you love a glass of wine late in the evening, but you aren't interested in a snack or a meal right before bed. Medium-bodied and light-bodied wines are good choices for enjoying without food. These wines have fewer tannins than full-bodied red wine, so they aren't too acidic to drink alone. Merlot is a classic medium-bodied red wine that offers a lot of flavor. Pinot noir is a great light-bodied red wine with a range of complex aromas and tastes.

Experiment: Even when you follow the basic rules of red wine, you have to experiment with different wines to find one that offers the flavors and textures you prefer. If you are new to red wine, start with light-bodied wines or even a flavored wine to get the feel for the taste. Have your own wine tasting party with friends to decide which wines you like. Wine-of-the-month clubs also allow you to try a variety of wines chosen specifically to your tastes.

Buy Wine
Back to Guides Directory