by L. Sefcik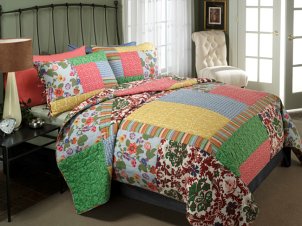 Spring signals the arrival of warmer mornings and less nippy nights. The same flannel bedding that kept you toasty all winter long will soon be relegated to the linen closet for the duration of the warmer months. Updating your bedding for the sunny spring mornings can enliven your home and help you sleep comfortably. Look below to learn how to choose quality bed linens for spring.
Choosing Quality Bed Linens:

Choose pure cotton. Cotton is a fabric that breathes and doesn't feel clammy against the skin. Additionally, quality bedding made of pure cotton resists staining and easily releases dirt during laundering, making it easier to care for than bedding made of other fabrics. Cotton duvet covers allow your down comforter to stay cool and clean.

Go for luxury. The higher the thread count in your bedding set, the better it feels against your skin. Thread count refers to the number of cotton threads woven together horizontally and vertically to create one square inch of fabric. You can visually see the weave in bed linens with a thread count of 300 or below. However, as thread count gets higher, the less obvious the weave is and the smoother and more durable the bed linens are.

Lighten up your color scheme. The warm, comforting browns and moody charcoals and blacks that made for irresistible cool-weather colors may appear oppressive and heavy once days become brighter and warmer. Neutral creams and pastels fit well into spring and summer decor. If you want to get yourself in the mood for long, sunny days, choose quality bed linens in lush, vibrant shades of yellow, green, red and blue.

Lift your loft. Spring nights can still get chilly, so you might not want to part ways with your down comforter just yet. For a lighter-weight version of your favorite piece of bedding, consider purchasing a down blanket, too. If you want to avoid trips to the dry cleaner to clean your down blanket, opt for a blanket with a synthetic fill that you can wash and tumble dry. Cover the blanket with a lightweight duvet cover for even more protection.

Buy Bedding
Back to Guides Directory