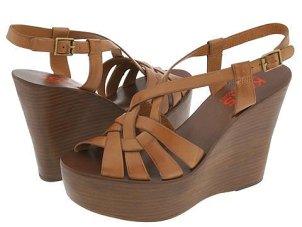 Platform sandals have surfaced as a dressier alternative to flat sandals and a more casual option than a pair of strappy heels. If you're new to platform sandals, here are a few tips to help you select a pair of platform sandals that help you look and feel great.
Choosing Platform Sandals:

Choose a style that suits your wardrobe. Just like most other women's sandals, platforms are available in a variety of materials, including leather, cork, canvas, vinyl and satin. They also come in various heights and with or without embellishments such as zippers, grommets and snaps. If you're not sure which style you like best, think of a favorite outfit and find a pair that matches it. You can also purchase women's platform sandals in statement colors and fabrics and wear them with neutrals in your wardrobe, such as a black pencil skirt.

Decide on a reasonable height. If you have difficulty walking in heels, you will probably not want to choose high-heeled platform sandals or strappy platform sandals with narrow heels. This doesn't mean you can't wear those gorgeous gold platform sandals you saw online; it just means you should go with a lower heel. Wedge platform sandals are generally easier to walk in, and there are many platform sandals that are designed with smaller platforms and heels.

Find styles that will flatter your feet and legs. Most platform sandals look great on everyone. However, if you have wide, thick feet, avoid strappy platform sandals with straps that cut into your skin. Petite women should choose delicate styles to complement small feet and ankles.

Pick a versatile design. High-heeled platform sandals look great with skirts and dresses, but they also dress up fitted jeans and skinny jeans. Wedge platform sandals add an earthy touch to dresses and skirts, especially during the summertime. If you want to get plenty of wear out of your platforms, choose sandals in a flattering color and cut. Metallic platform sandals dress up skinny jeans or dress pants and would look fabulous with a flowing white dress.

Buy Platform Sandals
Back to Guides Directory