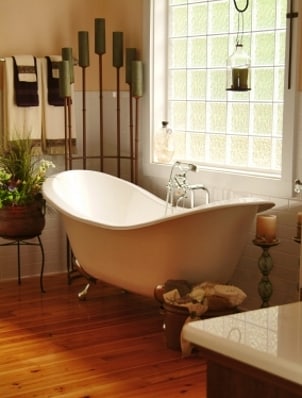 When you're choosing new tubs for your home, you want consider both the practical and the aesthetic factors that will affect your decision. However, it can be a little tricky to know what sort of things you should have in mind when you're shopping for a new tub if you've never gone through the process before, so it's helpful to do a bit of homework before you make your bath tub selection. This buying guide covers some of the basic considerations you should make when you're choosing new tubs for your home.
Choosing a New Tub:

Research different kinds of tubs. Before you can decide which sort of tub you want to install in a new or remodeled bathroom, you will want to know which sort of tubs are available. While you may be familiar with drop-in bathtubs and clawfoot tubs, you may not be aware that you can also find pedestal bathtubs and walk-in tubs. One way to find out what is available is to search through the different bathtubs offered by an Internet retailer. Doing so will give you a good idea of different styles of bathtubs and ballpark prices for different kinds of tubs. Another good idea is to look through home decorating magazines to see pictures of exemplary bathrooms and which sorts of bathtubs they use in different sorts of decorating schemes.

Decide which kinds of tubs your bathrooms can accommodate. Once you have an idea of which sorts of tubs are out there, you can begin to narrow down the options. The first step you'll want to take is to figure out which styles of tubs your bathrooms can accommodate. If you're buying a bath tub for a small guest bath, then you're probably limited to buying a drop-in tub, since a claw-foot tub or pedestal bathtub would not fit. On the other hand, if you're buying a new bath tub for a master bathroom with plenty of space, then you can choose whether you want a classy clawfoot tub or a walk-in tub.

Consider who will be using the tubs. Knowing who will use the bathtubs you're buying can help you narrow down choices. For example, if you know that someone older will be using the tub a lot, then you probably don't want to install a clawfoot bathtub that requires the user to climb over the high lip of the tub. If children will use the tub a lot, you may want to install a drop-in bathtub because the three enclosed sides will minimize the amount of water that splashes out of the tub.

Find tubs that match the decor of your bathrooms. Once you have considered the practical matters relating to your bathtubs, you can focus your attention on how you want your tubs to complement your bath decor. If your bathroom has a vintage look, then you may want to install a classic claw-foot bathtub with oil-rubbed bronze feet. On the other hand, if you're going for a modern look, an angular pedestal tub can lend a contemporary feel to your decor. If you plan to spend a lot of time in your bath tub and you have a lot of room, a walk-in tub may be a wise choice.

Buy Tubs
Back to Guides Directory