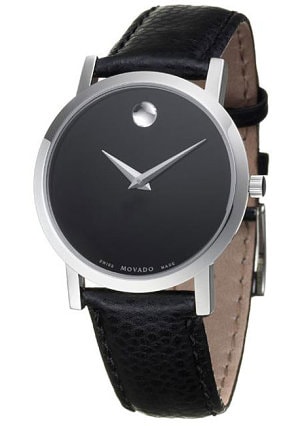 Movado watches made headlines when they became the first watch to ever be displayed at the Museum of Modern Art in New York City. The aptly named Museum watch featured a defining single gold dot at 12 o'clock to symbolize the sun at high noon and a sleek face devoid of any distracting digits. Today, the iconic Museum watch is just one of many Swiss luxury watches offered by Movado. Here's how to choose Movado watches for your collection.
Choosing a Movado Watch:

Decide whether you want a dress watch or a sports watch. While Movado is known for the Museum watch, they also offer several styles of traditional sports watches. If you spend most of your time in an office or in situations that call for professional attire, you'll want a dress watch that can accentuate your outfit. Sports watches are ideal if you plan on using your Movado watch in the water or in conditions where scratching is a concern.

Think about your current jewelry collection. By examining your current accessory wardrobe, you can decide whether you want a watch which fits in perfectly or one that brings something new to your collection. You may also want to look at which colors are most prominent. Movado watches come in both silver-tone and gold-tone, so it's up to you to decide which look you want.

Mixing and Matching Metal

Matching precious metals: Keeping your accessory collection streamlined makes it easy when accessorizing your watch with other jewelry, like earrings. Men may prefer to choose a particular men's Movado watch design that matches a favorite pair of cuff links or a wedding band.

Mixed metals: If you want to switch it up daily, choose a Movado watch in a color you normally wouldn't try. Ladies can slip on a stainless steel Movado watch with gold bangles for a trendy look that matches anything.

Determine which extras you're looking for. If you use your watch as a calendar, make sure the Movado watch you purchase includes that feature. It's also helpful to consider what level of water-resistance you want your watch to have.

Choose the watch band that fits your lifestyle. Movado watch bands generally come in three different varieties: rubber, leather, and stainless steel.

Watch Band Materials

Rubber: Commonly found on sport watches, rubber straps are ideal if you will be wearing your watch during water activities or athletic events. They help your wristwatch stay firmly in place and will not be damaged by water or sweat.

Leather:If you're looking for a casual dress watch, chances are you want leather straps. Leather straps can be adjusted to fit your wrist perfectly for maximum comfort but still look great in formal situations.

Stainless Steel: These versatile watch bracelets can be found on both sport and dress watches. Pick stainless steel if you want a watch that transitions easily from work to play and is extremely durable.

Figure out your budget. Now that you have the perfect watch in mind, set a price range to search within. Luxury Movado watches range from basic to fully loaded, so you should be able to find something no matter what your budget is. Basic Movado watches are perfect if you're not looking to spend a lot of money, while things like diamond accents and 18-karat gold bands will be more expensive.

Buy Movado Watches
Back to Guides Directory