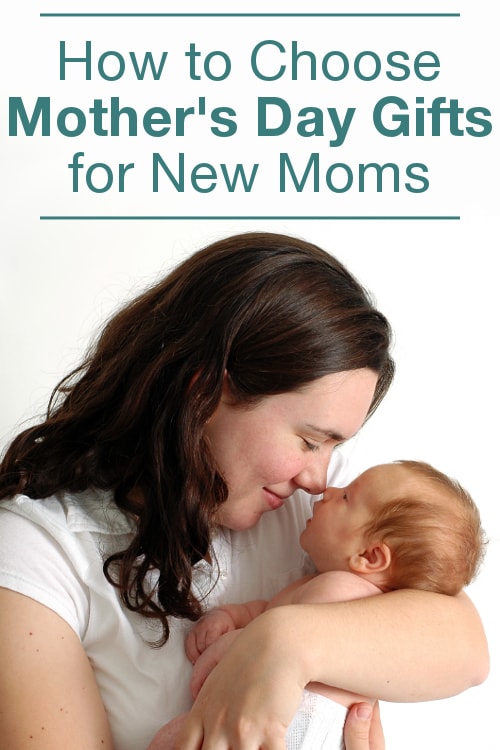 SHOP MOTHER'S DAY GIFTS NOW >>
Every mother deserves a good Mother's Day, but the first one can be extra special for a brand-new mother. If there is a new mom in your life, whether she's your wife, sister, daughter, or a close friend, here are a few things to consider when you're choosing the perfect gift for her.
Choosing Gifts for New Moms:

Does she have any keepsakes? Becoming a mother for the first time is exciting, and it's certainly a time she'll want to remember. Photo albums, framed hand and footprints from the baby, and necklaces with the baby's birthstone or initial are all lovely keepsake gifts she'll love. Baby journaling is a popular trend right now. Buy a new mom a nice journal, so she can write about milestones in her baby's life now and then pass it on when the child is older.

Does she still need anything for the baby? Of course, Mother's Day gifts should be for the mother, but sometimes there's something she still needs for the baby that she hasn't had time to buy herself. Find out what baby gear she still needs, or something she would love to have, for her baby and pick it up for her for Mother's Day.

Did she have a boy or a girl? Whether you're buying something just for mom or something she can use for the baby, look for gifts that reflect the gender of her baby, such as jewelry with either pink or blue stones, or a scrapbook with a girly princess theme for a girl or fire trucks for a boy. She loves her little boy or girl, so give her something to show you do, too.

Does she need a little time for herself? As rewarding as having a brand-new baby is, it can also be difficult and tiring. Many new mothers spend several weeks at home with their baby. This is an important bonding time, but eventually mom will need to get out of the house and enjoy some time for herself. Arrange for a babysitter and send mom to the spa for an afternoon or out for a date night with dad.

What does she wish she could buy herself? A new baby usually means a tighter budget, and sometimes mom just can't buy that new handbag she wants or the hottest new best-selling book she'd love to read. Find out what she's had her eye on and surprise her with it for Mother's Day. After all, every mom deserves to be spoiled a little.

Shop Gifts & Flowers
Shop Mother's Day Gifts
Find the Perfect Gift in Our Gift Center
See All Guides
Read More Holiday & Giving Guides
Get More Mother's Day Gift Ideas
Published April 13, 2012
Updated March 2, 2015