How to Choose Mattresses for Children
by Staff Writer

Once your child has outgrown his crib, you'll need to shop for a new mattress to go on his bed. This is a purchase you won't want to take too lightly. Here's why it's such an important decision and what you'll want to consider while you shop for the best mattress.
Why Kids' Mattresses Matter: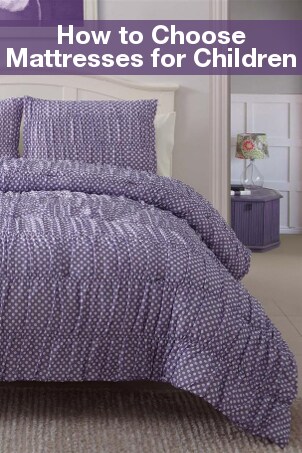 Shop Mattresses ▸
To support healthy growth:

It's important to buy a children's mattress that will support your child's growing body. Because kids' bones are still developing, their mattresses need to properly support them in order to avoid spine problems later in life.

For restful sleep:

Mattresses affect the type of sleep children get, and all parents can agree that children need quality sleep. Without the proper amount of sleep, children may experience problems at school and home, such as trouble focusing, difficulty paying attention, poor memory, and sluggishness.

To grow with them:

You child may use the same mattress from the time he grows out of his crib to the time he leaves for college. Make sure you choose something that is meant to last.

Size:

The mattress size you choose will mainly be about your personal preference. A twin mattress is common for younger children. There are also long twin beds available for those who are taller than average. Older children may prefer a full or queen-size bed, and some parents opt to start out with this size as soon as their children move from a crib.

Mattress type:

Innerspring mattresses are very popular, and these provide quality support with coils. Pocketed coils are a more recent advancement on this technology; each coil is individually wrapped to help contour to the body. Another option that is growing in popularity is memory foam, which conform to a child's body to offer the support they need.

Firmness:

The best mattress for a kid will give the proper support while cushioning developing bodies. Regardless of mattress type or size, children need firm support. Firm kids' mattresses help ensure a child's spine and bones develop properly and stay in alignment.

Other needs:

Children with allergies or asthma need synthetic-filled mattresses that resist dust mites and allergens. The best mattresses for kids also have microbial or hypoallergenic fill and covers, which help control these problems. Give your child a better night's sleep with a children's mattress that won't harbor or invite things that will keep her awake.