by L. Sefcik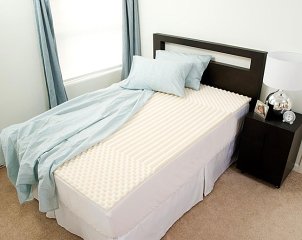 Mattress pads serve a variety of functions. They add comfort to your mattress, they change its texture, and they protect it from stains. Finding the right mattress pad can be tricky, but it's not impossible. Take a look at the article below to learn how to choose mattress pads.
Choosing a Mattress Pad:

Protection: Choose a mattress pad if your goal is simply to protect your mattress. Mattress pads made of tightly woven anti-microbial cotton provide protection against allergens, such as dust mites, while others have waterproof backing that guard your mattress against spills, perspiration and other liquids. Pillow-top and lamb's wool mattress pads, which have an extra layer of padding, might make the best mattress toppers if your goal includes both mattress protection and additional comfort.

Featherbeds: Add considerable loft to your mattress with a featherbed mattress topper. Featherbeds lay on top of your mattress like large, flat pillows. If you have problems with allergies, some featherbeds are made with anti-microbial down-like fill and provide the same soft, cushy sensation as the real thing.

Memory foam: Change the feel of your mattress with a memory foam mattress topper. Memory foam is dense yet malleable, conforming to the shape of the body, which makes them the best option for fitful sleepers and those with back or joint pain. Not to be confused with porous foam mattresses, these popular mattress toppers are usually available with a thickness of 1 inch to 4 inches and with varying densities between 3 pounds and 6 pounds. The denser your memory foam mattress pad, the more support it will provide and the longer it will withstand wear.

Accessories: Consider that you might need to make additional purchases to accommodate or protect your mattress topper. A plain cotton mattress pad conforms to your mattress tightly without adding substantial height. However, pillow-top mattress pads may add considerable rise to your mattress, necessitating the purchase of fitted sheets with deep corners. Featherbeds and memory foam mattress toppers require a separate cotton cover to protect them from dirt and stains.

Buy Mattress Pads
Back to Guides Directory