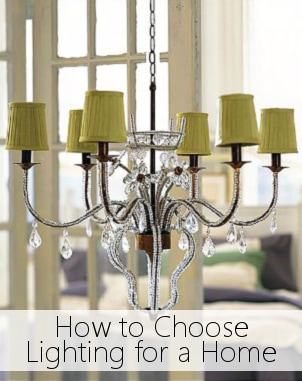 Even the most confident of decorators can feel stumped when it comes to a lighting design for the home. After all, major decisions concerning lighting can have a dramatic effect on how your interior spaces look and feel. The diversity of styles, fixtures, sizes, finishes, and even bulbs can intimidate rather than inspire a decorator. Begin the process by looking at the rooms of friends and family that you admire and check out the lighting they use.
Choosing Lighting:

Tour your home to assess lighting priorities. You may need sufficient light for studying and reading or you may require lighting that illuminates accessories. Look for tight corners or long hallways that might benefit from a simple lighting accessory as well as rooms that demand brighter light that comes from a source other than the overhead fixture.

Choose lighting from all three decor categories: ambient, task, and accent. Ambient lighting sets a mood and fills a room with either bright light or a mellow glow. Task lighting provides a bright beam of light in a concentrated space. Accent lighting serves to add form more than function to your space.

Incorporate lighting that establishes or extends your decor theme. A contemporary, minimalist environment benefits from sleek and simple fixtures with steel or chrome finishes. A period-specific decor may feature antiques or reproductions reflective of the era, like an ornately scrolled metal floor lamp with petal shades for a Victorian home. An eclectic home may include a combination of modern lamps and chandeliers.

Vary fixtures in different spaces. Recessed lighting works well in a modern and contemporary room that requires ambient lighting. Chandeliers add architectural interest and accent lighting. Try one over the dining room table or, for a decadent look, over your bed. Pendant lights hang lower into the room and often feature eye-catching colors or materials for shades, so try them in the living room, over a kitchen island, or over the dining room table. Decorating with table lamps and wall sconces shines a pathway from the entryway to the living room or illuminates a hallway. Decorative lighting that you mount in shelves or cabinets can spotlight a collection or add mood or color at night.

Beautify your home with artisan lighting. These pieces serve as adornment rather than providing anything more than mood lighting. Fabric sculptures may feature a small bulb inside, while a water feature may have a basin that illuminates at night. Ethnic shades and fixtures add an exotic element. Try a Moroccan engraved tin shade inset with colored gems to shine shafts of color throughout the room. Asian-inspired paper lanterns come in various colors and patterns, creating pools of color over a table or in a bedroom.
What Do You Want to Do Next?

Shop Chandeliers & Pendants
Shop Artisan Lighting
Shop All Lighting
See All Guides
Read More Home Guides
Learn More about Lighting