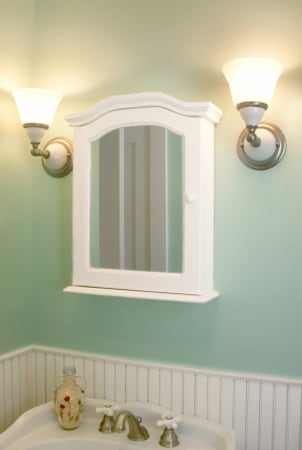 When you decide to update the light fixtures in your home, the bathroom might be the last room that comes to mind. However, when you take into account that this is the room in which you likely prepare for the day as well as the place you go to soak away your stress, you will probably recognize the importance of selecting the right bathroom lighting. Designing the lighting in your bathroom is largely a matter of personal taste, but there are a couple of things to keep in mind while you shop.
Instructions:

Types of lighting. Decide on the type or types of lighting you want. For example, you probably want at least one general overhead light fixture, but you may also want task lighting such as sconces and vanities to place around the mirror. You might also desire some type of ambient lighting to help create a spa-like environment. Knowing the effect you want will help you to choose the right light fixtures.

Lighting locations. Choose the locations for light fixtures in your bathroom. Once you know the various types of bathroom lighting you desire, it will be easier to determine where to place the fixtures. For instance, if you want task lighting for putting on makeup or shaving, place sconces or vanity lighting above or alongside your mirror. Measure the area of the mirror to help you choose the best size and shape of light fixtures.

Color and finish. If you're not renovating the whole bathroom, draw inspiration from your existing bathroom decor when designing your lighting. Choose light fixtures that match your bathroom hardware or choose a color and finish to harmonize with the existing color scheme. For example, steel or chrome would go well in a cool-toned blue bathroom, while copper or bronze would complement a warm-toned yellow bathroom. If the bathroom hardware is brushed nickel, carry the theme through with the lighting hardware.

Style and design. Similar to color and finish, you can choose a style and design that complements or contrasts with the overall style and design of your bathroom. If your bathroom is eclectic, choose a lighting style and design that contrasts pleasantly with the rest of the room. If you want your lighting to complement your existing bathroom decor, stick with the room's overall style when choosing new light fixtures. For example, if your bathroom is contemporary with clean lines and modern fixtures, opt for modern lighting. For a bathroom with a claw foot tub or other classic decor, select light fixtures with details such as scrolls and flowers or choose a mini chandelier.

View All Sconces and Vanities
Back to Guides Directory