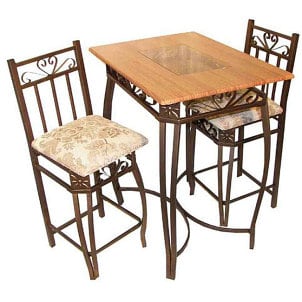 Kitchen chair seat covers add comfort and style to any dining set. Whether you have wooden dining chairs that you would like to make a little more comfortable or you are looking to update your decor, kitchen chair seat cushions offer many options. Kitchen chair pads can even protect your dining chairs from scratches, scuffs and stains. When choosing chair pads for your kitchen chairs, you will consider fabric type, color and design, style and price. In addition, not all seat cushions are equal; some are reversible, while others offer additional non-slip security.
Choosing Kitchen Chair Pads:

Size: Measure the seats of your kitchen chairs. While most kitchen chairs are the standard size of approximately 16 inches square, there may be some variation, especially if you are dealing with older chairs. Armed chairs may also be slightly smaller than side chairs. For maximum comfort, chair pad cushions should extend to the front edge of the chair seat without hanging over.

Fabric: Choose a fabric for your dining chair pads. If you have small children, select a fabric that will be durable and stain-resistant. Consider cushions that feature zip-off covers that can be easily washed. Microfiber is soft and resists stains and spills. Canvas is durable, and if treated with a water-resistant protector, it will hold up to abuse from active children.

Materials: Pick seat-cushion material that offers comfort without getting in the way. Tufted and upholstered cushions are readily available in many beautiful designs; memory foam seat cushions offer comfort and style with a lower profile.

Color: Pick a color or pattern for your kitchen chair pads that complements your kitchen decor. Alternately, choose your new chair pads to provide a contrasting "accent" for your current kitchen color to add interest and excitement. For accent coloring, examine a color wheel and select a color opposite that of your main kitchen color.

Non-slip features: Select the backing for your seat cushions. Unless the cushion ties to the back of the chair, you'll need a cushion with gripping material on the underside so it doesn't slide off the chair. Small children who move around a lot and even adults can slip if a cushion is not properly secured to the chair.

Buy Chair Pads
Back to Guides Directory