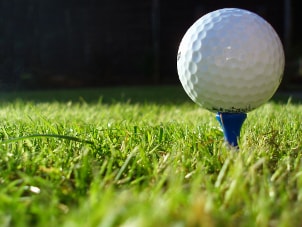 Choosing the right golf ball can add yards to your drive and maybe even help eliminate your slice. Knowing what golf ball is best for your style of game is a lot like knowing which golf club to use and when. Just because your favorite pro uses a specific ball, or has his name on the box, doesn't mean that golf ball is right for you. Things to consider when choosing the right ball for you include core and construction, your golf style and even the golf course you're playing.
Choosing Golf Balls:

Know the different styles of golf balls. The three major styles of golf ball are the two-piece ball, the three-piece mantle ball and the three- or four-piece performance ball.





Two-piece balls: The two-piece ball has a large inner core and is designed to add speed to the ball when it is struck. This golf ball greatly improves the distance on drives. These balls also spin less, minimizing slice.

Three-piece balls: The three-piece mantle ball combines the large core of a two-piece ball with a thin layer between the core and the outer surface. This helps to further reduce spin and improve the distance on your shot.

High-performance balls: Four-piece golf balls, and some three-piece balls, are high-performance and used by professional players. They have a dual inner core and are designed to be hit hard with a fast swing. Low-handicap golfers will find this type of golf ball best for landing a drive exactly where they want it: They tend to stop and then drop without a lot of rolling once they hit the ground.

Consider what type of golfer you are. The occasional weekend golfer with a relatively high handicap does not need to spend the money for the high-performance three- and four-piece balls. In addition to the cost factor, these balls will not improve your golf game unless you have the precision and velocity in your stroke that are common among professionals.

Think about your swing speed. If your swing speed is lower than 85 mph, buy a low-compression golf ball that will help increase the velocity of the ball when it is hit. A skilled golfer -- with a handicap of less than 12 and an average score in the seventies or low eighties for 18 holes -- should use the higher quality balls.

Assess your accuracy. If you hit the ball mostly straight and into the same area every time, look for a medium-spin two-piece ball or a three-piece hybrid ball. The objective should be to find a ball that fits your style and skill level. Additional spin will add distance, but if you have any imperfections in your swing, the spin will increase them.

Stick to what works. Though your game can be improved with a ball that is a better match for your style of play, changing balls randomly or often will only frustrate you and prevent you from improving your golf game. Try a new golf ball every season or so, but then be consistent with your golf equipment to get the best results.

Buy Golf Balls
Back to Guides Directory