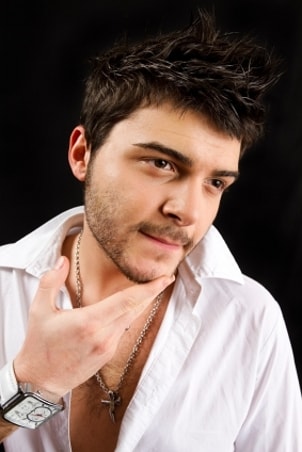 Gold is one of the world's oldest precious materials. Adding luxurious pieces of gold to your fingers, wrists, ears, neck and shirt sleeves is a great way to add your personal signature to all your clothing selections. Men's jewelry featuring this valuable metal is sleek and versatile. There is a seemingly endless array of men's gold jewelry to choose from, and selecting quality, stylish gold jewelry is important. Whether you are looking for elegant jewelry to wear with your best workday wear or you want to give luxurious men's gold jewelry as a fantastic gift, our tips will help you select men's jewelry in a variety of gold designs for your jewelry collection.
Choosing Men's Gold Jewelry:

Rings: Rings are some of the most popular items in men's gold jewelry. Men's gold rings are available in so many different styles; you can choose a white gold and diamond wedding band or splurge on a yellow gold and gemstone ring. There are few rules when shopping for gold rings. Most men's gold rings can be worn in a variety of situations, and the majority can be worn daily.

Bracelets: Men's gold bracelets add a flash of color and sparkle to any ensemble and can be worn with your best gold watch or leather cuff bracelet. Men's chunky gold-link bracelets make a nice statement and are very masculine. Cuff bracelets come in many different styles, and a variety incorporate intricate designs and symbols. Choose several different types of men's gold bracelets to round out your gold jewelry collection.

Necklaces: Necklaces bring variety to your wardrobe; you can select the chains and pendants that speak to you and reflect your tastes and interests. Short men's chains are subtle and classy, while long gold chains command attention. Hang a gold pendant from your favorite gold chain or string it onto a leather cord for a more natural vibe.

Earrings: Men's gold earrings are timeless and classic. Gold stud earrings are appropriate for any venue and easily match other jewelry selections. Men's gold hoop earrings add a little extra flash and an urban style to jeans and suits. Choose from white gold, yellow gold and gold-plated earrings when shopping for men's jewelry.

Cuff links: Cuff links are part of an age-old tradition, which is based on the value of a well-dressed man. Cufflinks are still popular today, and gold cuff links add bling to any basic French-cuff shirt. Simple gold cuff links are elegant and traditional, while gold cuff links embellished with gemstones are dramatic and opulent.

Buy Men's Jewelry
Back to Guides Directory