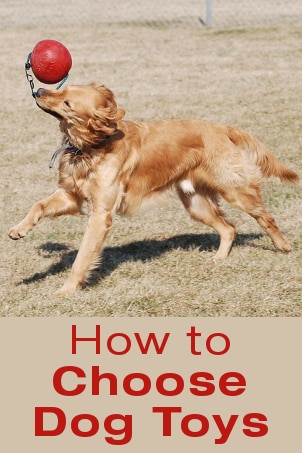 SHOP DOG TOYS NOW >>
By nature, dogs are playful and fun-loving, and dog toys can help you make sure your dog is enjoying herself while getting plenty of exercise. If you're trying to sniff out the perfect dog toy for the canine in your life, consider these tips while you're shopping, so you can choose the best toys for your dog.
Choosing Dog Toys:

Consider your dog's age: There are a few considerations you will want to make when choosing dog supplies, the first being the age of your pet. The age of a dog has a large impact on the types of toys he can enjoy. For example, a puppy may be prone to more chewing than an older dog, so a highly durable dog chew toy may be a more appropriate choice. In contrast, an older dog's ability to chew and chase dog chew toys may be diminished from his younger years.

Think about your dog's size: When it comes to pet toys, size matters. You wouldn't buy an oversized chew toy for a teacup poodle. Likewise, a toy that's too small for a larger dog could be a potential choking hazard, and he'd probably just destroy it quickly. Find the right size of dog toy for your pet to maximize safety and enjoyment.

If you are indoors or out: The type of dog toy you choose for your pet will depend on whether you plan on using it inside your home or outside. Issues such as durability and use depend on environment. For pet owners with dogs who spend time both indoors and out, buy a variety of pet toys to entertain your dog, so you'll always have the right toy handy.

Dog Toys for Every Location:

Outdoors: If you want to be able to play fetch at the park, look for a throwing disc or a sturdy chew toy.

Indoors: If you're spending an evening indoors or if you need to keep your dog entertained when he's left home alone, look for toys that will require focus. Toy puzzles will keep clever dogs busy for a while, and dogs who love snacks will stay busy with toys that you can put treats inside. Squeaky toys and stuffed toys are best for indoor use because they would get too dirty outside.

When you want to play, too: Interactive pet toys are the best toys you can buy for your dog, since playtime promotes owner-pet bonding. Look for dog balls you and your pooch can play fetch with, or a rope toy to play tug-of-war. Make the most of play time with a training-and-exercise set that will keep your dog in shape while at play.

Shop Pet Toys
Shop Pet Apparel
Shop All Pet Supplies
See All Guides
Read More Pet Guides
Learn More about Pet Gear & Supplies