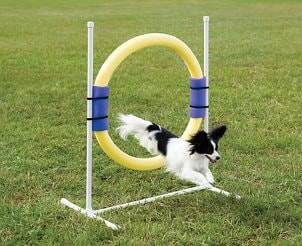 By nature, dogs are playful and fun-loving, and dog toys can help you make sure your dog is enjoying herself. Pet toys serve a variety of purposes for your dog. They are made in a huge range of shapes, materials and sizes to suit pooches of all stripes. Because there are so many different types of dog supplies and toys, finding the right one for your dog might seem intimidating. There's no reason to worry, however. Picking a great dog toy for your furry friend couldn't be easier. If you're trying to sniff out the perfect dog toy for the canine in your life, take a look at the helpful article below to learn how to choose dog toys.
Choosing Dog Toys:

Think about age: There are a few considerations you will want to make when choosing dog supplies, the first being the age of your pet. The age of a dog has a large impact on the types of toys he can enjoy. For example, a puppy may be prone to more chewing than an older dog, so a highly durable dog chew toy may be a more appropriate choice. In contrast, an older dog's ability to chew and chase dog chew toys may be diminished from his younger years.

Consider size: When it comes to pet toys, size matters. You wouldn't buy an oversized chew toy for a teacup poodle. Likewise, a toy that's too small for a larger dog could be a potential choking hazard. Find the right size of dog toy for your pet to maximize safety and enjoyment.

Indoors or out: The type of dog toy you choose for your pet will depend on whether she lives in your home or outside. Issues such as durability and use depend on environment, so you may be less likely to buy your dog a Frisbee if she spends most of her time in your living room, for example. For pet owners with dogs who spend time both indoors and out, look for a wide variety of pet toys to entertain your dog whether you're playing fetch at the park or enjoying an evening in.

Interactive: Interactive pet toys are the best toys you can buy for your dog, since playtime promotes owner-pet bonding. Look for dog balls you and your pooch can play fetch with or a rope toy to play tug-of-war. Make the most of play time with a training and exercise set that will keep your dog in shape while at play.

Buy Pet Toys
Back to Guides Directory