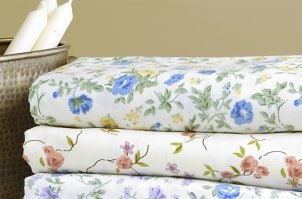 There are plenty of great deals to be found within the world of clearance bed linens, but it's good to know what to look for before you begin searching for the perfect sheets. Even if the price is discounted, you'll want to make sure your new bedding meets your needs. Clearance bedding is sold in all kinds of styles, colors, and fabrics. These tips will help you choose the right clearance bed linens for your home.
Choosing Clearance Bed Linens:

Pick a size. The first thing you will want to do when shopping for any bedding is decide what size you need. Although sheets, comforters, and bedding sets are usually manufactured in all the standard sizes -- twin, twin XL, full, queen, king, and California king -- bedding that is on clearance may not be available in all the sizes. Online retailers often let you shop by size for clearance bed linens, making it easy for you to look at just the items that will fit your bed.

Choose a fabric. Clearance bed linens are available in all kinds of fabrics, and you will want to think about which type is best for your situation before making a decision. The most popular bedding fabric is cotton, but even cotton has characteristics to consider, such as thread count and type. If you are looking for additional warmth from your new bedding, look for flannel sheets. For an extra bit of comfort, consider bed linens made with a smooth sateen weave. To learn more about fabric options, read our Bed Sheet Fabric guide.

Take time to browse. You never know what you may find when you are shopping clearance bedding. Take time to look at the different options, and you may discover something -- a color or a design -- you hadn't considered before. The low price may convince you to think about going in a different direction.

Decide on style. The final thing you will want to decide on when choosing clearance bed linens is style. Although not as crucial as size or fabric, style will play a part in your buying decision. Think about how the bed linens will fit in with the rest of your design scheme and decor. When you're looking at this type of bedding, you will be surprised at the variety of colors and styles available, so you shouldn't have much trouble finding something that will work in your home.

Buy Bed Linens
Back to Guides Directory