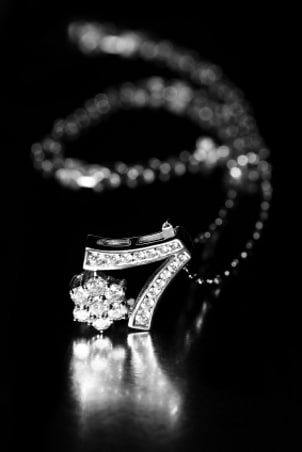 Shopping for bridal jewelry is an important part of the wedding planning process. You want your wedding day to be perfect, and that starts with the perfectly accessorized dream gown. Wedding jewelry is a large investment, whether you choose a classic pearl jewelry set, a luxurious diamond necklace, or sweet sterling silver hair jewelry. Give yourself some time to consider and select bridal jewelry to ensure that you'll be thrilled with your wedding day ensemble.
Choosing Bridal Jewelry:

Find your inspiration: Many women have a specific idea of how they want to look on their wedding day, but other brides need help narrowing down their style options. Most brides start with the gown. The style of your wedding dress can help you choose wedding jewelry to match. If your dress sparkles with elegant beading, then diamond jewelry will accent the dress perfectly. If you have selected a vintage wedding gown decorated with lace or bows, then pearls might be a better fit. If you're having trouble finding the perfect dress, consider starting with the jewelry. A stunning platinum jewelry set just may inspire you to choose that tulle ball gown. Your engagement ring and the wedding venue could also offer inspiration for your wedding day look.

Choose one statement piece: To avoid over-accessorizing your gown and detracting from its beautiful details, work to create a balance between accessories. The easiest way to balance bridal jewelry is to choose one statement piece. You can choose between extravagant bracelets, necklaces, earrings, and hair jewelry. If you select a bold diamond necklace, then choose a simple diamond tennis bracelet and diamond stud earrings that will complement the jewelry and your dress. If you have your heart set on an elaborate tiara, choose an understated white gold or pearl jewelry set to accompany the piece.

Let your personality shine: Be careful not to get caught up in the excitement so much that you lose your personal style in the process. Every bride should add her own touches to her bridal ensemble; bridal jewelry makes it easy to personalize your gown. Consider a long beaded necklace, a pair of novelty earrings, or layers of bracelets to set your wedding day outfit apart from the crowd. You'll appreciate looking like yourself in your wedding photos.
What Do You Want to Do Next?

Shop Wedding Jewelry
Shop Bridal Sets
Plan Your Dream Wedding
See All Guides
Read More Jewelry Guides
Learn More about Wedding Jewelry