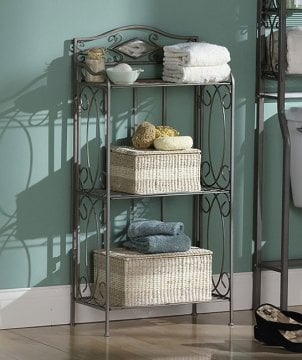 A change in your bathroom shelving can have a massive impact on the cleanliness and style of your room, and it's not hard to do. If you want a quick way to give your bathroom a fresh look, think about new bathroom shelving. It isn't necessary to rip your bathroom apart to give it a great makeover. All you need is a vision and a tape measure, and you're well on your way to a brand-new look. Take a look below for tips on how to choose bathroom shelving.
Choosing Bathroom Shelving:

Ensure your bathroom is ready. Make sure that your bathroom has standard walls and gypsum drywall with studs. Most bathroom shelves are screwed into studs, which are normally set 36 inches apart. Some shelving has a base and rests upon itself. Be sure your new bathroom shelves can be installed in your bathroom before your purchase it.

Size it up. Decide how much bathroom storage shelving you need in your bathroom before trying to decide what kind you want. The amount of bathroom storage needed will give you a rough estimate and a good starting point. How much space are you trying to create? Will you want room to expand?

Measure twice. Buy once. Get out the ruler or measuring tape and calculate the area that is going to become bath shelving. Remember that standard shelving has one foot between shelves, but some more advanced shelves can be adjusted to your preference, so you do not have to be exact -- just close.

Begin visualizing. Now that a certain amount of space has been allotted to the project, you can decide what look you're going for. This is your chance to flex your interior design skills, so let them loose! Consider material. Most materials come in all shapes, colors and sizes, but metal and plastics have the most variety. Wood is great and has a classy look but may cost more.

Browse. Take a look at all your bath shelving options; think about the pros and cons of all the choices that catch your eye.

Take your time. This is the most important part, the decision. Take one final look at your choices and requirements, and then choose the bathroom shelving that will get the job done.

Buy Bathroom Shelving
Back to Guides Directory