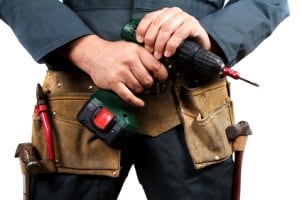 There's no question that the right power tool can help you complete the job more efficiently than traditional hand tools. The success you have with your power tools is dependent on purchasing the right tool and using it safely. For many do-it-yourself home improvement projects around the home, portable power tools, such as drills and sanders, are ideal because they can be easily stored when they're not in use. If you're outfitting a garage or workshop, you'll likely be considering stationary tools, such as table saws and drill presses, as well as more portable power tools.
Power Tool Info:

Make a list of what you need your power tools to do and the types of projects you will be tackling. This list will help you decide if it's worth paying for a specific feature. For example, if you need your drill to go into tight spaces with you, then a cordless tool will likely be the most convenient option. However, if you need the drill to run for long intervals without losing power, an electric drill will allow you to work without interruption.

Consider tools that can tackle several different types of projects. Jigsaws can perform a variety of tasks, eliminating the need for a range of specialized tools. Purchasing just one tool that performs in a myriad of situations saves time and money.

Buy well-known brand names for long-term satisfaction. You may pay a bit more for a popular brand, but you will have more options if the tool ever needs to be repaired, including easily found replacement parts. Buying lesser-known brands can save you money, but research their reliability record before buying.

Read the instruction manual before you attempt to use the tool. Cordless tools often need to be fully charged before their first use, and electric power tools require a minimum number of volts. The instructions vary depending on the manufacturer, so it's important to take the time to read through the manual, even if you're familiar with that type of power tool.

Wear the proper safety gear. Woodworking power tools in particular often require safety goggles and a respirator to protect the user from airborne particles. Frequent use of power tools can adversely affect hearing over time, and earplugs are recommended.

Avoid wearing loose clothing, ties and jewelry when using any type of power tool. Keep your shirt tucked in and your hair tied back for safety.

Examine the power tool before each use to check for loose or damaged parts. Never use a power tool that is damaged.

Unplug electric power tools and remove the battery from cordless tools before cleaning or making any adjustments. Do not keep tools plugged in when they are not in use. Properly store portable tools to protect the tool and your children and pets.

Buy Power Tools
Back to Guides Directory