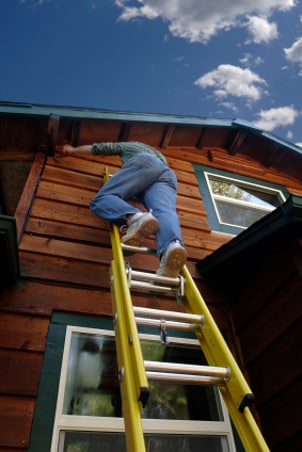 An extension ladder is a versatile, almost indispensable, tool for most homeowners. If you're comfortable on a ladder, you'll quickly recoup its cost by cleaning your own gutters, painting your own home, hanging Christmas lights and completing innumerable other repairs around the house. Choose a ladder based on the size of your home and your needs. Extension ladders come in different lengths and duty ratings in both aluminum and fiberglass models. Ladders can also be accessorized to make them safer, reach tricky spots or work safely on a roof.
Instructions:

Measure the height of your home both inside and out. Measure a section of siding that you can reach from the ground and multiply that by the number of upper sections for an approximation.

Get the correct ladder length. According to the Occupational Safety and Health Administration, the top of the ladder should extend at least 3 feet above the "upper landing surface" it rests against. A 16-foot extension ladder will reach the roof line of most single-story homes as well as many higher interior walls. Choose a 24-foot or taller ladder for two-story homes or single-story homes with high peaks. Keep in mind that longer extension ladders may be difficult for one person to manage alone.

Choose between fiberglass and aluminum. Fiberglass ladders are mandatory for working with live wires because they don't conduct electricity. The fiberglass ladders weigh more and are a little more expensive than aluminum extension ladders. Aluminum ladders are suitable for every job -- even electrical work, as long as you turn off the power first.

Get an appropriately rated ladder. Consider the amount of weight the ladder will need to bear and pick the right duty rating. Ratings run from Type 3 with a 200-pound capacity, for light household use, to Type 1AA with a 375-pound capacity. An extension ladder needs to bear the weight of the user along with tools and supplies.

Decide on a style of ladder. For versatility, look at folding extension ladders, also called extension trestle ladders. These ladders are capable of being used in multiple configurations for different tasks. These ladders fold into a compact, easy-to-store size, so you don't need a truck to carry one. Consider one of these if you are limited on space or you would like a ladder that can be used as a stepladder and work bench as well as an extension ladder. Telescoping ladders are extension ladders that become small enough to store in almost any closet. A traditional extension ladder is an affordable option for standard tasks like cleaning gutters, but they need more storage space.
Tip:

Purchase ladder accessories as needed. These include ladder levelers for working on uneven ground or over stairways, stabilizers and roof hooks for stability, and wall protectors.

View All Ladders
Back to Guides Directory