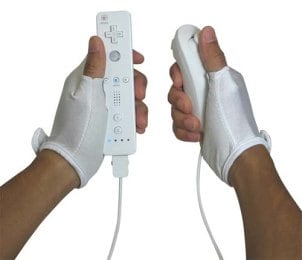 Ever since its release in 2006, the Nintendo Wii has been popular with people from all age groups. With its sleek design, unique gameplay and wide range of hardware and accessories, the Nintendo Wii system has raised the market's interest in video game consoles. Many games for Wii use extra attachments, or accessories, in order to enhance gameplay. One popular Nintendo Wii accessory is the balance board, sold as part of the Wii Fit exercise video game. Other popular accessories include the sport pack, a steering wheel, a guitar kit, a gun kit, a light saber for Star Wars fans, a wireless motion bar and many more. There are so many accessories on the market that it can be hard to decide which are necessary and which aren't worth your time. This step-by-step guide will help you decide which accessories are must-buy items and which may be left by the wayside.
Choosing Wii Accessories:

Determine what kind of games you want to buy. Many peripherals are game-specific, like the Tony Hawk Ride skateboard peripheral. Others, like the Wii Balance Board or the Wii Wheel, can be used for multiple games. Most Nintendo Wii games, however, require the Nunchuk attachment, which makes it the only real necessity in terms of accessories. If you intend to buy a range of games that require a specific accessory, that accessory might be a better investment than one that you'll use on only one or two games.

Decide whether or not you want to play Virtual Console games. On the Wii, you can purchase "retro" games (from older consoles, like the original Nintendo, the Super Nintendo, the Sega Genesis, etc.) via Nintendo's online service. If you think you might play these games, consider investing in a Classic Controller or a Classic Controller Pro, which is necessary for many VC games.

Beware of fads and useless accessories. Although all Wii hardware and accessories serve some purpose, which may or may not be valuable to you, many are unnecessary. For example, the Wii Zapper is unnecessary for playing games but can provide benefits such as a better aim and added comfort. Similarly, the Wii Wheel is not necessary but could add depth to your gaming experience. Decide whether the extra plastic is worth the purchase.

Read user reviews about the product. The commercials for a gaming accessory make it look so appealing that many gaming fans purchase it and find out too late that it wasn't such a great product. You'll be surprised at the kind of reviews you will find. Remember than when one person complains, usually there are more people who have had the same bad experience with the product. Likewise, if one person feels that an accessory improved his gaming experience, many others may feel the same way.

Decide on the type of accessory you are getting. Knowing which type of accessory you need is important as some third party companies offer the same type of accessory for a lower price. The catch is that those accessories may not be correct for you. A lot of the Wii games are designed for children, and as such, these third party accessories are often made for young children in a smaller size than the standard Nintendo brand accessory.
Warnings:

The Wii remote can be destructive. Be sure that you always attach the wrist strap on your remote to your wrist to keep the controller from slipping from your hand.

When you're playing active games that require a lot of movement, be careful that you have ample space around you to keep yourself and others from being injured.

Buy Nintendo Wii Hardware and Accessories
Back to Guides Directory